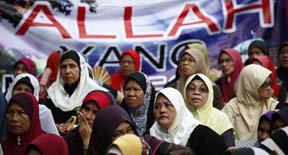 KUALA LUMPUR: Christians in Malaysia today lost their final bid to use the word "Allah" to refer to God with the highest court ruling that the ban on it was lawful, ending the years-long highly divisive legal case in the Muslim-majority nation.
The case was brought by the Catholic Church, which was seeking to overturn a 2007 government ban on it referring to God by the Arabic word "Allah" in the local Malay-language edition of its Herald newspaper.
The Herald, failed to get leave from the Federal Court to challenge the Home Ministry over the ban.
The seven-judge panel in the administrative capital Putrajaya ruled that a lower court decision siding with the government stood.
Chief Justice Ariffin Zakaria, who chaired a seven-man panel today, held this in a majority 4-3 decision. This is the first time that such a large panel has sat to hear and determine the application for leave.
In dismissing the application for leave, Justice Arifin held that the minister's decision with regard to the ban was lawful and reasonable.
"It (the Court of Appeal) applied the correct test, and it is not open for us to interfere," Arifin said.
"By a majority of four to three, the leave application is dismissed," he said.
Justice Arifin said Court of Appeal president Justice Raus Sharif, Chief Judge of Malaya Justice Zulkefli Ahmad Makinudin and Federal Court judge Justice Suriyadi Halim Omar had read his judgment and agreed with him.
In a dissenting judgment, Chief Judge of Sabah and Sarawak Justice Richard Malanjum said leave should be given in consideration of the degree of public importance of the case and the necessity of the Federal Court to resolve questions of law.
The seven-member panel, on March 5, heard submissions from both parties on the leave application.
The Federal Court's decision not to grant leave effectively means that the decision of the Court of Appeal stands and there can be no more appeals by the Church.
The legal tussle goes back to 2009, when the Roman Catholic Church, led by Archbishop Murphy Pakiam, filed a judicial review application, naming the Home Ministry and the Government as respondents, seeking, among others, a declaration that the ministry's decision to prohibit the use of the word "Allah" in The Herald was illegal.
The Court of Appeal had set aside the Dec 31, 2009 decision of a High Court, which allowed the weekly to use the word after it declared the Home Ministry's decision in prohibiting the publication from using the word "Allah" was illegal, null and void.–PTI