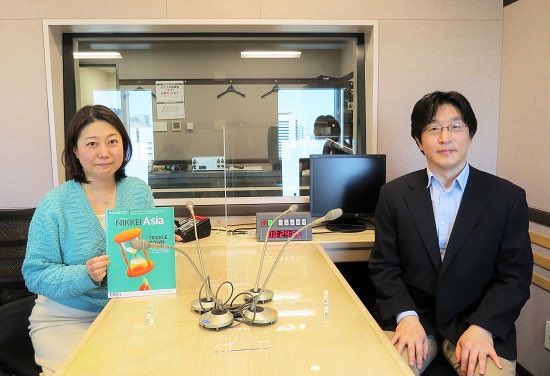 TOKYO: The Editor-in-Chief of Nikkei Asia, Shigesaburo Okumura, said, in his view, 2023 would be remembered for India's emergence as the third pole of the world.
"A year ago, I predicted a stronger Xi Jinping and a weaker Joe Biden in my forecast for 2022. I was almost correct, but the reality turned out a little differently than I expected," the editor-in-chief said.
He said, "Xi secured a third term as general secretary of the Chinese Communist Party and filled the seven seats on the Politburo Standing Committee with his allies. But the abrupt lifting of his zero-Covid policy after November's "white paper" protests showed that Xi is not omnipotent. His credibility and dignity have been damaged, to put it mildly."
The editor-in-chief said the outcome of his sudden policy U-turn was yet unknown. "British health data analytics group Airfinity on Friday estimated that 1.7 million will die of Covid-19 in China by April. So Xi's position as the new year begins is not quite as strong as I expected."
"Similarly, Biden's position as 2023 begins is not quite as weak as I forecast. In a setback to Trumpism, Biden's Democratic Party expanded its control of the US Senate in November's election, despite losing its majority in the House of Representatives. As a result, the installation of federal judges and the ratification of international treaties should be easier," he said.
He said, "With Congress divided, Biden will probably have no choice but to take a tougher stance against China. On the other hand, China will try to avoid unnecessary confrontation with the US as Xi faces considerable uncertainties."
He said US-China tensions and decoupling were big issues, and added that he would focus on three points to watch: the aftermath of the exit from zero COVID, the new US Congress and Taiwan. "These points will be Nikkei Asia's editorial priorities for 2023 as well."
"On the first point, considering low vaccination rates among the elderly and insufficient medical facilities in rural areas, more than 1 million lives might be lost in China, as Airfinity calculates. Moreover, with the authorities obscuring the death toll, attempts to report the reality, whether by local or international media, are likely to encounter official interference," he said.
"However, some signs suggest the worst of the outbreak may have already passed," he said.
"Covid-related searches on Baidu, the country's dominant internet search engine, peaked on December 21, according to an index developed by the company. In Beijing, searches began declining about a week earlier. This may mean that China is moving quickly toward herd immunity, although Airfinity projects that daily infections will build to a high of 3.7 million cases on Jan. 13 and then reach 4.2 million on March 3," the editor-in-chief said. "Despite the huge human cost of China's abrupt zero-COVID exit, there is a positive side."
"The fever is tough. It is hard to get medicine," an infected resident told the editor-in-chief. "Still, it is better to go out freely and be infected than to be locked down forcefully."
"There is also an upside risk from recovering economic activities. China during the second quarter eked out real gross domestic product growth of just 0.4 per cent from a year earlier due to intense COVID lockdowns in Shanghai and other cities. Third quarter growth rebounded to 3.9 per cent. By ending the lockdowns, China should see further substantial gains. Many economists and think tanks probably will have to make significant upward revisions to their forecasts for Chinese growth, sooner or later,"
"Second, the 118th U.S. Congress that convenes on Tuesday bears watching. Kevin McCarthy is likely to become the new House speaker, with Michael McCaul set to become chairman of the House Foreign Affairs Committee," he said.
Both Republicans are hawkish on China. "The greatest threat to the United States is the Chinese Communist Party," says McCarthy, who plans to organize a special committee on China. He and McCaul back strict enforcement of China chip export curbs, which will add to pressure on Biden to not show weakness, according to the editor-in-chief.
"Third, Taiwan will remain at the front lines of the US-China confrontation as both the island and the US gear up for presidential elections in 2024."
"From Beijing's point of view, "no war" is always preferred, which it sees as more likely if the presidency is recaptured by the opposition Kuomintang (KMT) and it can likely be expected to try to manipulate Taiwanese public opinion through propaganda and fake news. The KMT soundly beat the ruling Democratic Progressive Party in city and county elections in November, winning posts including the Taipei mayoralty and prompting President Tsai Ing-wen to resign as party leader. The Biden administration will undoubtedly keep supporting Taiwan with cutting-edge weapons and joint military drills amid the U.S. election campaign," he said.
"Confidence-building measures to avoid accidental military collisions will be important for maintaining peace and stability. As long as China continues to challenge U.S. economic and military supremacy, tensions between the giants will keep intensifying."
"Another important factor not to be neglected is India. This year will likely be remembered for marking its emergence as the world's most populous nation."
According to the UN, China's population last year was 1.426 billion while India's was 1.417 billion. In July, the UN forecast that China's population would fall in 2023 while India's would surpass it. By 2050, the UN expects India will have 1.6 billion residents and China 1.3 billion, the editor-in-chief said.
"A growing working-age population is an important source of economic growth, so India's emergence will give it new power in international politics. While India's border disputes with China along the Himalayas fester, New Delhi has drawn closer to the US and its military allies. This could help deter Beijing from military adventurism in Taiwan or elsewhere," he said.
Moreover, decoupling between the US and China and the rebuilding of technology supply chains to exclude China benefits India. Apple is building iPhone 14s in India. Natarajan Chandrasekaran, chairman of Indian conglomerate Tata Sons, has talked of plans to produce semiconductors on the subcontinent, he said.
"The strength of India is its independent diplomacy. While a member of the Quad with the U.S., Japan and Australia, it participates in military drills with Russia and imports weapons and oil from Moscow. Despite its border dispute with Beijing, India respects the BRICS framework, and Prime Minister Narendra Modi joined Russian President Vladimir Putin and Xi at a bloc summit in June," he said.
He said in March, India would host the plenary session of the Trilateral Commission for the first time. "This year, it is also chairing the Group of 20, a role that will involve a leaders' summit and many ministerial meetings. The Modi government will be eager to show leadership ahead of India's own elections in 2024," he said.
He concluded that the new year thus could mark the beginning of a tripolar world, involving the US, China and India. "New Delhi is undeniably on the rise." (ANI)