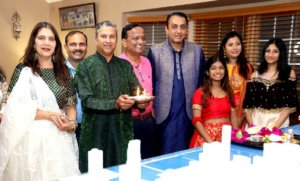 Suresh Bodiwala
CHICAGO: This Ganesh festival was unlike any other in the past. A complete mind boggling 1:1600scale, 3D printed scale model of Chicago downtown was created over 9 months. This work of art with amazing attention to detail and superb execution was done by Ravindra Joshi, a local artist.
If the breath-taking design wasn't enough, the seamlessly integrated light fixtures weaved throughout the buildings produce a stunning visual in the night.
First, Joshi looked through Google Earth block by block. Then, he downloaded each block and with various software's, reconstructed each block for it to be printed. On average, each block required 20+ hours of work. This model featured the Willis Tower, the tallest building in Chicago downtown, requiring 27+ hours of 3D printing. In addition, the model included other Chicago land favorites like the John Hancock building, Solder Field, and the Chicago River.
This relentless day and night work, done through these past 9 months left all Chicagoans speechless. We all can't wait to see the project he creates next!