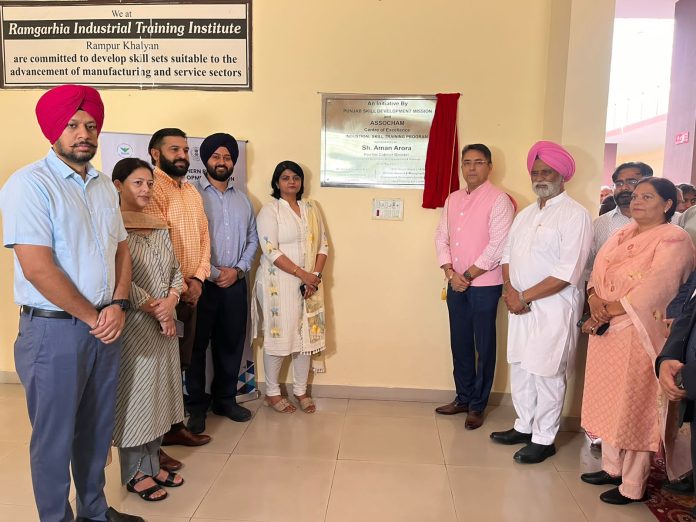 2000 candidates to be given training in Automotive Machine Operator and Electrical & Electronics Assembly
Migration a global phenomenon, began when the very world came into existence
Jaswant Singh Gandam
India Post News Service
PHAGWARA: In order to prepare the youth to become job creators from job seekers, Punjab Employment Generation, Skill Development and Training Minister AmanArora recently inaugurated 'Center of Excellence' in Ramgarhia ITI Phagwara at village Khalyan near Phagwara, where over 2000 candidates are expected to get training in Automotive Machine Operator and Electrical & Electronics Assembly courses.
Addressing the inaugural function, Aman Arora said that Chief Minister Bhagwant Mann led Punjab Government would further encourage skill development for making youth self-employed instead of seeking employment. The main objective of the Punjab Government is to set up industries in Punjab and making youth skilled so that the migration of the youth to abroad could be deterred.
He said that this project would prove to be a milestone for the entire Doaba region and especially for the industries of Jalandhar and Phagwara, as it would pave the way for the youth to establish self-employment on a large scale.
The initial period of "Centre of Excellence" has been kept at 2 years from 2023-2025, during which over 2000 candidates will be imparted skill training courses of four months of automotive machine operator and electrical & electronics assembly fitter.
With this center, locally trained personnel will be available to the industries as per the requirement, enabling youth to get employment at handsome salary nearest their homes, minister said.
Admitting that migration of youth was a global trend and this phenomenon began when the very world came into existences, the minister said this trend will continue and it was difficult to stop it but he added in the same breath that Bhagwant Mann government will leave no stone unturned to check it.
Arora said, "The skill requirement of industries was not taken care of and the products of skilled man power from schools and colleges did not measure up to those requirements. Consequently, industries did not get what they wanted and the skilled youths could not get jobs, as their skills did not measure up to industrial needs. This gap increased migration. Our students and young generation, who failed here, did wonders abroad as they were hard working, innovative, talented, out of box thinkers, had risk taking capacity and were 'jugaru' too. These qualities are in the genes of Punjabis. Study UN reports and you will find that our new generation of Punjabis were having more per capita income than the natives there. For checking this migration trend, we will now bridge the critical gap between the requirement of industries and the product i.e. skilled manpower being trained in schools and colleges by bringing them on one platform".
Commenting on Job Melas of previous government, Arora said all these were political melas where fictitious figures were uploaded on portals.
Director General Punjab Skill Development and Employment Mission Ms Dipti Uppal said that interested candidates for these courses will be registered as per the batch and trained with expert trainers, after which an industry visit will be conducted with guest lectures and final placement will be done by evaluating and certification by conducting job interviews.
Senior AAP leader Joginder Singh Mann, Ramgarhia Educational Council Chairperson Manpreet Kaur Bhogal, Director Vyoma Bhogal Dhutt, Assocham Chairman Vijay Garg, Co- chairman Assocham Kulwant Seehra, ADC Phagwara Dr Nayan Jassal, ADC (D) Paramjit Kaur, Phagwara SDM Jai Inder Singh were present on the occasion.