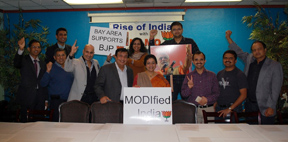 SAN FRANCISCO, CA: Overseas Friends of BJP welcomed Princess Mahima Singh in the group, on Sunday, December 21 with an induction ceremony at Swagat restaurant, Milpitas, California.
Mrs Mahima Singh is the grand niece of the former Prime-Minister of India, Vishwanath Pratap Singh and daughter of former Union Minister, Dr Sanjay Singh, currently Rajya Sabha Member.
The event was attended by Core OFBJP volunteers, coming mostly from the hi-tech sector, led by Chandru Bhambhra, Past President of OFBJP, USA. The esteemed guest list included Ashok Bhatt and Rao Rohit Singh (renowned hoteliers), Niraj Baxi (past president of NFIA), Neeraj Paliwal (Stanford alumnus and cyber security expert and renowned architect Pankaj Jha. Amongst the core group of volunteers were Somanjana Chatterjee, Shivu Vibhuti, Raghavendran N., Govind V.S., Mahadev K., and Anirban Kundu.
Mahima Singh reflects that the erstwhile Amethi Royal Family and Amethi have had a long standing association with Indian politics, pre and post-Independence and the family has been privileged to host leaders and visionaries who aimed to chart a course for modern India.
However, the people of Amethi remained deprived of growth and development in the last 67 years although the constituency has been in constant focus by the media because of its high profile political candidates.
A recent family dispute in the royalty went to the extent of life threats for the brother-sister duo, Mahima Singh and Anant Singh. But the rural residents of Amethi not only came in thousands to shower their support and goodwill to the heirs but braved bullets of the police to protect them from political and family onslaughts.
Such love and respect for the heritage by the bourgeoisie have prompted Mahima and her husband Bhriguraj Singh Jhabua to join the BJP, to reconnect with their homeland and devote their time and resources for the welfare of its people.
Mahima recalled that her grandfather Rajarshi Rananjay Singh resigned from the Congress party and joined Jana Sangh, which was the precursor of the BJP. Thus the family has a history with this political ideology that she intends to nurture.
The 35 generations of rulers of Amethi focused strongly on the development of its inhabitants. The feelings that she and her brother have for the people are beyond any political aspirations. But, the whole nation-building movement inspired by Narendra Modi makes her hopeful that it would sweep Amethi as well and she sees light at the end of the tunnel – elevating the region and the people from 35 years of misgovernance.
In India, over a separate ceremony, her brother Anant Vikram Singh was inducted into BJP at a grand ceremony in Lucknow, Uttar Pradesh, on the same day, by the UP-BJP President Laxmikant Bajpai as widely reported in the Indian media.
India Post News Service