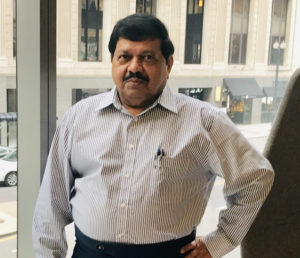 Surendra Ullal
CHICAGO: A freshly graduated young Chartered Accountant from India came to Chicago from a remote village in Gujarat in mid-seventies to realize his American dream and stayed put for a decade working in an accounting firm in Downtown Little he would realize that he was destined to be a big businessman heading a multi-million dollar firm and hobnobbing with celebrities like President Bill Clinton or PM Narendra Modi or getting honored with many awards and accolades. Down the line,
He is Anil Shah achieving his American dream heading not only his own accounting firm – Shah Associates Inc. – but more importantly one and only of its type Indian owned currency exchange firm in the entire USA – World Money Exchange. The currency exchange firm deals in all types of world currencies for the past 33 years without any blemish and rendering yeomen services not only to Indians but to all communities at large in Midwest
In a talk to this paper, Anil Shan said that he had the smallest idea to start dealing with world currencies although he was toying with accounting firm ideas for long. It was just the providence that at one time he got so disgusted standing for nearly two hours in a queue for at an Indian bank in Chicago that an idea jerked in his mind to do something to alleviate the hardship faced by his own community members seeking to remit money to India.
The very next day he went to the Illinois department of company registration and got his own corporation – World Money Exchange – dealing in world currencies got registered. It was May 4,
1985, and the company under the stewardship of Anil Shah not only survived many swings in the US economy but carved out a name and fame for itself. It maintains a unique place among currency dealers in the country, a remarkable feat in the context that survival rate is short
It is not that Shah's firm caters to the needs of the only general public even banks and big financial institutions seek WME help time and again. The success in this highly competitive field is brought about by two factors, says Anil Shah. The first is a remarkable degree of honesty without which you cannot earn client's confidence And secondly, as he puts it, very low margin of profit as you have to compete with giants globally in the field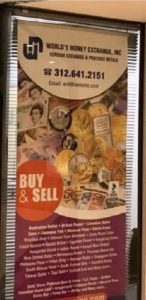 WME has principally built its success on these two pillars but Shah also underlines the importance of good and efficient service and excellent customer relations. "I have yet to come across a customer who got dissatisfied with our services, the credit for this I have to share with members of my staff. One of my staffers worked for me for nearly three decades and just got retired," Shah points out.
The dint of efforts, hard work honesty, and staff efficiency have placed WME among top rankers in the currency exchange field helping it to cross $60 million marks in annual turnover last year. Shah is looking with pride and confidence ahead for the time when the firm crosses the $100 million mark and bring more laurels. Shah's singular achievement in this field has brought him many awards and recognitions from a number of organizations, the most notable being the Hind Ratnaaward at the hands of India President a few years ago.
He was specially invited by US President Bill Clinton for a Special White House visit and got an exclusive audience with Indian PM Narendra Modi Ji. He has rubbed his shoulders with big wigs in politics and society because of his humility and amiable behavior Anil Shah also believes in sharing his fortune with the community and strongly believes in giving back to the community. He has been a constant supporter of many social and cultural events organized for just and noble cause in Chicagoland. There probably would not be a community event for a good cause where his firm is not a sponsor.