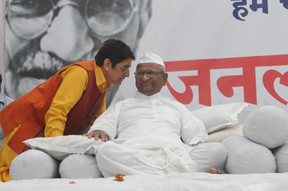 RALEGAN SIDDHI, Maharashtra: Anti-graft crusader Anna Hazare's indefinite hunger strike pressing for passage in Parliament for Jan Lokpal Bill entered third day today.
Social activist Medha Patkar, who met Hazare here today, flayed Congress-led UPA government for "inaction" on the issue. "What has prevented the government from passing the bill?" she asked.
"Had the government passed the bill after the earlier agitation, Congress would not have faced the ignominy in the recent Assembly polls," she said.
Meanwhile, Aam Aadmi Party convener Arvind Kejriwal, who was supposed to go to Ralegan Siddhi to support Anna Hazare, has dropped the plan due to his ill health.
"Kejriwal is suffering from high fever due to which he is unable to go to Ralegan Siddhi to support Hazare, who is on indefinite hunger strike for passage of Jan Lokpal Bill in Parliament," AAP spokesperson Manish Sisodia said.
Instead of Kejriwal, party leader Kumar Vishwas and others have left for Ralegan Siddhi, he added.
Yesterday, Hazare's associate and former IPS officer Kiran Bedi met the anti-graft crusader and is expected to join his fast from Saturday.
"People should dislodge the government through ballot if the Bill is not passed in this session," Bedi had said.
Union Minister of State for Personnel V Narayanasamy had said on Tuesday that the government was serious about passing the bill in the current session of Parliament and had given a notice to Rajya Sabha Chairman for taking it up.
However, BJP leader Arun Jaitley, in his reply to Hazare's letter seeking the party's support for the bill, said its is currently pending before Rajya Sabha was a diluted one, and even this bill had not been listed by the government on the agenda of the ongoing session.–PTI