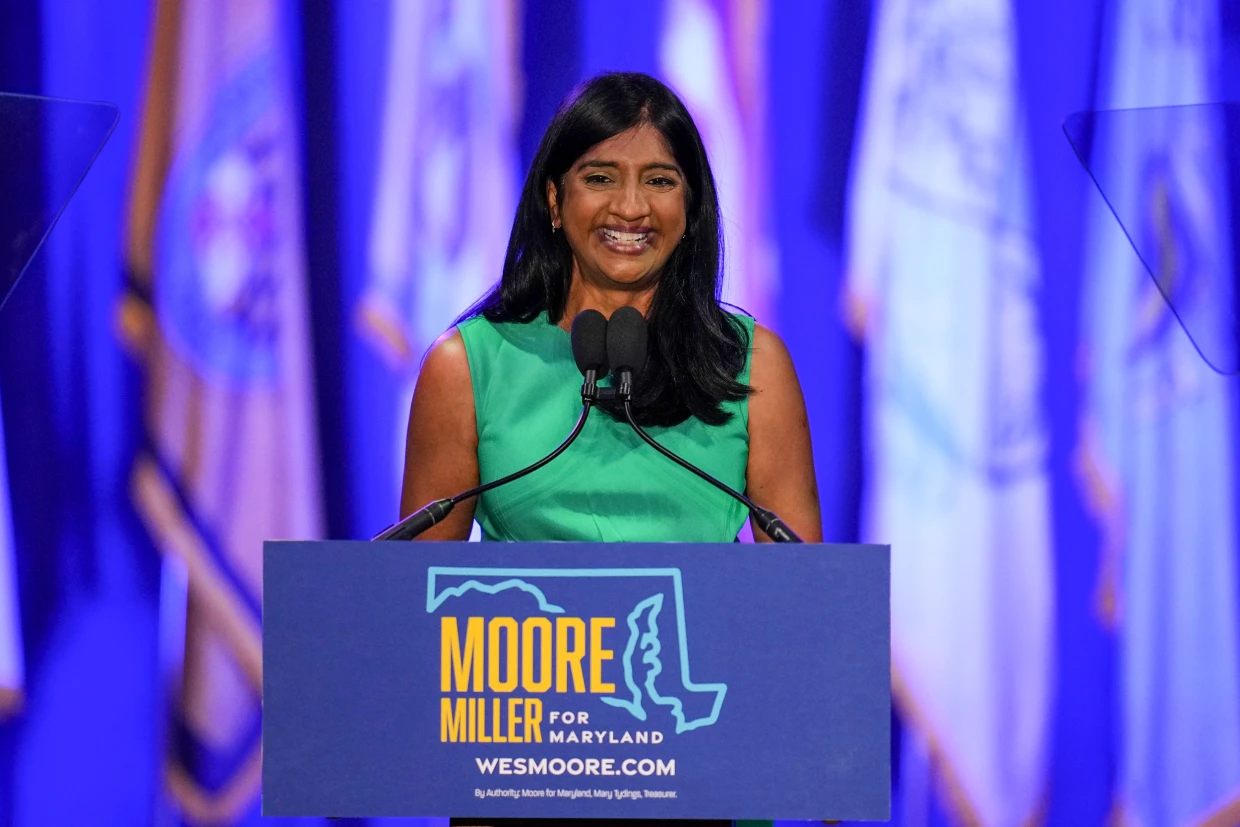 ANNAPOLIS: Hyderabad-born Aruna Miller made history by becoming the first Indian-American politician to be elected as the lieutenant governor of the US state of Maryland. Miller was sworn in as the 10th lieutenant governor of the state on Wednesday.
Miller, 58, a career transportation engineer in her inauguration speech credited her success to her family who had immigrated to the United States from India. Her father,a mechanical engineer was the first to arrived in the US in the late 1960s as a student before he brought the rest of his family and she arrived in the country in 1972 as a 7-year-old.
Upstate New York became home to her parents and two siblings, a brother and a sister. Her father was an engineer for IBM, according to a report in the Washington Post. She was part of a historic Democratic ticket that sailed to victory in November last year and also gives Maryland its first Black governor, its first Black attorney general and its first female comptroller, the Post reported.
Miller has served two terms in the Maryland House of Delegates from 2010 to 2018. She also ran for congress but lost, according to the daily.
During her oath-taking ceremony, an emotional Miller shared the story of her arrival from India and made a special mention of her unforgettable first day of school. "None of them looked like me. And I couldn't speak a word of English, but I wanted to fit in. So when we went to the cafeteria, I had a plan. I was going to do exactly what everyone else was doing," Miller recounted.
"So I ate American food for the first time. I drank cold milk for the first time in my life. I was feeling pretty good. I thought okay, I think I went over all these classmates of mine. They're my friends now. I walked back to the classroom and proceeded to vomit all over the desk. I was mortified. My teacher called my mom who came to pick me up. And I told her I want to go back to grandma who raised me in India," Miller recalled.
The newly sworn-in Lt Governor, who took her oath on the Bhagwat Gita, said that as a woman of colour she spent most of her life trying to fit into a space that didn't have her in mind as an immigrant or a woman of colour.
"As an Indian American legislator in a legislature that looked nothing like me. It took me a long time to realize that it was never about needing to fit into a space created by others. It was always about having the courage to be my authentic self in every space," said Miller who had become a US citizen in her 30s.
After taking oath of office, Miller also thanked her parents and siblings. "To my mom and dad who took a leap of faith to come to this country because they believed in the promise of America, to my siblings, you were the best part of my childhood. And I thank you and I love you for always being there," she said.
Miller's victory is also due to her popularity among Indian Americans in the state of Maryland where several Republican, pro-Trump supporters came out to extend their support to her. Miller spent 25 years working at the local Department of Transportation in Montgomery County, Maryland, to improve the safety of the public and create equitable transportation access.
From 2010 to 2018, she represented District 15 in the Maryland House of Delegates, where she worked to create legislation to invest in STEM education, streamline the regulatory process for small businesses and advocate for working families, survivors of domestic abuse and the environment. After becoming a citizen of the country in 2000, for the first time she voted in the US presidential election. Gradually, she was pulled towards the politics of the state of Maryland and the country. (ANI)
Also Read: Indian-American Aruna Miller elected Maryland's Lt Governor