GEETHA PATIL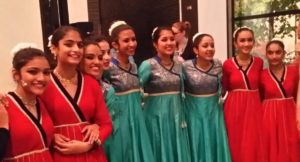 BOSTON, Massachusetts: Diwali, the Indian festival of lights, was celebrated at the Museum of Fine Arts (MFA) in Boston, October 30 evening by providing free admission to several hundred visitors for their special cultural and educational events.
The Diwali program included multiple music and dance performances, interactive artist demonstrations depicting Diwali decoration activities, enlightening tours and talks in the galleries exploring highlights from the collection of South Asian art.
On Diwali, Hindus, Buddhists, Sikhs, and Jains light diyas (oil lamps), so MFA requested the New England community to join them in the celebration. There was a brief talk exploring the highlights of South Asian art, including Ganesh, the auspicious elephant-headed Hindu deity known as the "remover of obstacles".
In the Riley Seminar Room, CEO and founder Sailaja Joshi read "Let's Celebrate Diwali", written by Anjali Joshi and illustrated by Tim Palin. The audience enjoyed an interactive drawing activity and book signing with Palin. Award-winning artist and educator, Sunanda Sahay demonstrated Madhubani, or Mithila, painting, a traditional art form of northern India, at the Education Center in Druker Family Pavilion of the museum followed by a question-and-answer session on Sahay's techniques and inspirations. Another artist and educator Sneha Shrestha exhibited "Mindful Mandalas". Shrestha collaborated with young artists from the museum's Community Arts Initiative Partners to create a wall mural inspired by mandalas.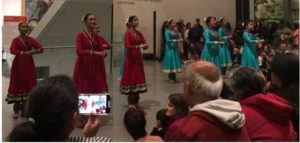 Young dancers from a local nonprofit South Asian Nation showed off the latest Bollywood moves at the Shapiro Family Courtyard. Arthi Vijayakumar showed rhythmic movements of storytelling of Kuchipudi dance form originating from Andhra Pradesh, India. She also performed an interactive audience dance lesson. Dazzling young girls from Chhandika Institute of Kathak, Boston, and Chhandam Nritya Bharati, Mumbai, presented Kathak, a dynamic dance form of northern India. This troupe told the audience the ancient stories through sophisticated rhythms, nuanced footwork, poetry, and music.
For the young children, activities, like making own diyas out of clay and decorating them with colorful beads, were arranged by the MFA team members. Children were also taught to make toran (garland-like decorations) out of leaves and marigold flowers to adorn the doors of homes during Diwali.
Subcontinental Drift (SubDrift), Boston, part of a national movement building a South Asian creative community, for showcasing music, poetry, and dance organized its Diwali cultural show at Remis Auditorium, MFA. The talented members of this group and other special invitees reflected on how Diwali and the arts create social and spiritual uplift.