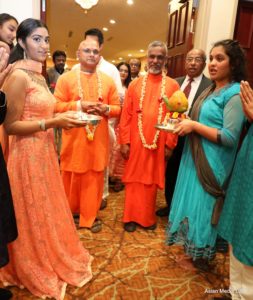 SURENDRA ULLAL
CHICAGO: The annual fundraising banquet of the Chinmaya Mission Chicago (CMC) was held at Waterford Banquet in Elmhurst November 3 to raise funds for the existing and upcoming special projects offered by the three Chinmaya Mission centers in the Chicago area.
With approximately 700 people in attendance and more than $200,000 raised, the event was an overwhelming show of support for the spiritual and service-oriented work being done by the Mission both at the local and global level.
Chinmaya Mission was founded in the 1950s by the devotees of Pujya Gurudev Swami Chinmayananda with a view "to provide to individuals from any background the wisdom of Vedanta and the practical means for spiritual growth and happiness, enabling them to become positive contributors to society".
Special guest Swami Prakashananda, head of the Chinmaya Mission Trinidad and Tobago, in an inspirational message, talked about Karma Yoga and shifting our focus to selfless service. Chinmaya Mission Chicago's Swami Sharanananda gave his love and blessings. Pujya Guruji Swami Tejomayananda, Shri Jetindra Nayar, Swapna Naya and Dhiren Khatri also blessed the occasion.
Shanker Pillai, president of Chinmaya Mission Chicago, outlined the goals, activities, expansion plans, and the need for funds to continue in meeting the growing needs of the community. He elaborated on the existing Badri building complex expansion plan which is expected to begin in spring of 2020 and to be completed within two years.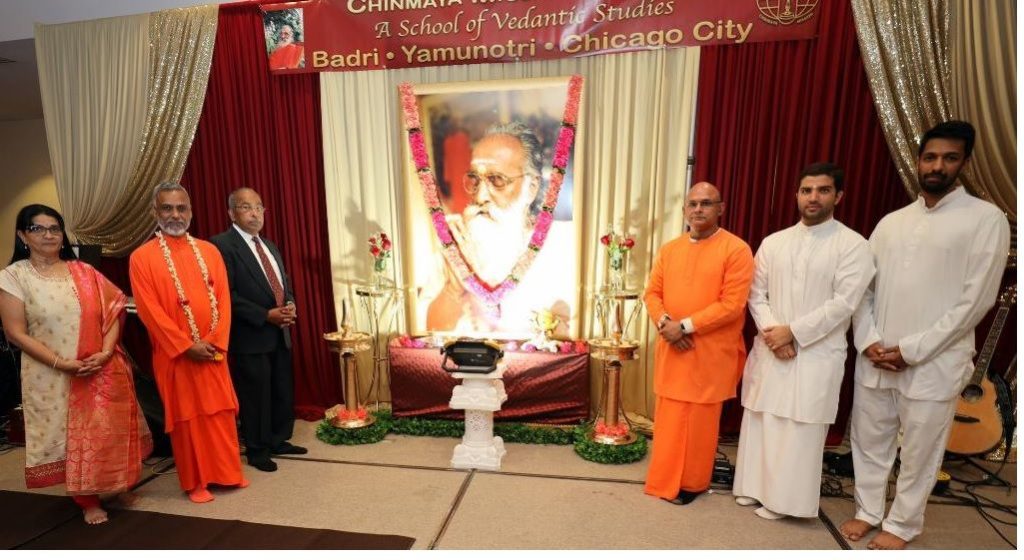 He also talked about a well-planned retirement/senior homes adjacent to the Badri Center to support the physical and spiritual needs of senior citizens. This unique 'no cost'concept has been designed so as not to incur costs to the occupants other than living and maintenance.
The entertainment for the evening was provided by the musical group Yuva Rhythms comprising young adults who are graduates of Mission's Balavihar.
High school and young college youth provided service throughout the evening by babysitting children of banquet attendees and helping with collecting donation envelopes.
The event came to a conclusion with the chanting of Bhagavad Gita chapter XV. Ashok Bhatia proposed a vote of thanks. Copies of a complementary souvenir book featuring inspiring articles and information about classes offered at Chinmaya Mission Chicago were also distributed.