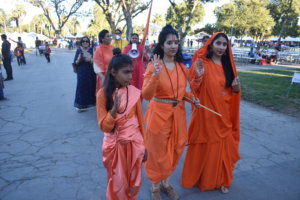 Ritu Maheshwari
India Post News Service
FREMONT, CA: In keeping with annual tradition, Festival of Globe, Federation of Indo-Americans of Northern California and Fremont Hindu Temple are celebrating "FOG Diwali – Festival of Lights" this year on a grand scale. It will be held on Saturday, October 15th, 2022 at Mission San Jose High School in Fremont, CA.Diwali is one of the most pious and joyous festival celebrated across India and the world.
While there are many back stories to why Diwali is celebrated, victory of good over evil is the underlying theme. Diwali is traditionally celebrated on the new moon day in October and is a 5-day long festival, with main event marked with lighting up the homes and streets, preparing delicious sweets and praying to the goddess of wealth, Lakshmi. After the prayers, people visit their friends and families and wish each other health and wealth. One special feature of Diwali celebrations is fireworks held in every neighborhood to spread the joy. Diwali also marks traditional New Year for Indian businesses.
FOG tries to recreate the same traditional fervor in the community by celebrating the festival in the bay area.
Key features of the event this year are:
– All day long cultural programs and kids contests starting at 10 am
– Dazzling Parade 2 pm to 4 pm
– Jewelry, Clothes and Food booths
– Kids talent show
– Fashion Fest 1:45 pm to 2 pm
– Lamp lighting and Dignitaries recognition- 4:30 pm to 5:30 pm
– Free Entry and Free Parking
A special feature this year is "Finding Seeta" – A kid's quiz and knowledge showcase to portray traditions and art from Ramayan. This is intended to impart children with knowledge of traditions and history.
In order to allow access to large parts of the community, the event is free. For more information visit – www.fogsv.org.
Please join FB event for more details: www.facebook.com/events/593645818943450