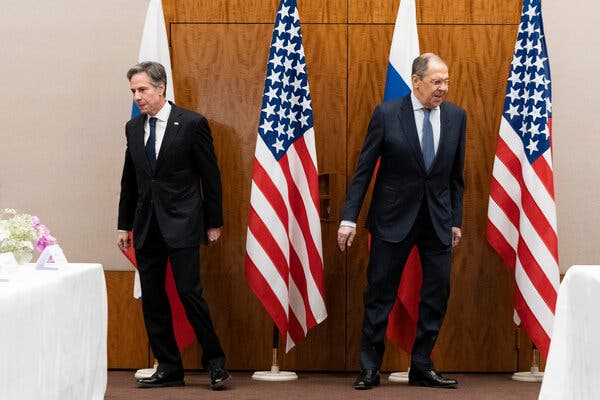 Last week, as Russia maintained a tough posture amid the standoff over its troop buildup near Ukraine's border, with a top diplomat warning that Moscow will accept nothing less but "watertight" U.S. guarantees, against Ukraine becoming NATO member.
While Biden vowed withering economic consequences on Russia, should Putin send his troops over the frontier, including restricting Russia's financial transitions in US dollars. Later, when asked to clarify what he meant by "minor incursion", Biden said he drew the line at "Russian forces crossing the border, killing Ukrainian fighters"; U.S. Secretary of State Antony Blinken underlined that Russia "cannot match" Western power's resoluteness.
German Foreign Minister speaking alongside Blinken, said the West would not shy away from taking action even if that included measures that "could have economic consequences for us." Further British Prime Minister Boris Johnson said Russia marching on Ukraine "on any scale whatever would be a disaster not just for Ukraine but for Russia."
All this started after the Soviet Union's dissolution in 1991; the successor states' bilateral relations have undergone periods of ties, tensions, and outright hostility. In the 1990s, Ukraine's policy was dominated by aspirations to ensure its sovereignty and independence. Later Czech Republic, Estonia, Latvia, Lithuania, Poland, and Slovakia had joined the EU, followed by Bulgaria and Romania. The Russian government feared that Ukraine's membership of the EU and NATO would complete a western wall of allied countries by restricting Russia's access to the Black Sea. Russia desperately trying to regain its power maintained earlier.
Meanwhile, the South China Sea has become one of many flashpoints in the testy relationship between China and the United States, with Washington rejecting what it calls unlawful territorial claims by Beijing.Recently, China was opposed to US Navy 7thFleet conducting routine maneuvers in the South China Sea.
China claims large swaths of the South China Sea. Taiwan, Vietnam, Malaysia, Brunei and the Philippines all have overlapping claims.
Some Taiwanese people fear an imminent war with China, as China's military capabilities grow and its government becomes more isolated on the world stage, there is a growing international concern of an attack or invasion. China has believed to have markedly increased its rhetoric and actual intimidation of Taiwan, with record numbers of air force flights into Taiwan's airspace.
Meanwhile, the standoff continues between India and China. China has still maintained more than 50,000 troops across the Line of Actual Control (LAC) in Eastern Ladakh even during extreme winters. India has also had to maintain a similar number of troops to ensure that the Chinese side does not even think of any misadventure. The Indian Army is also keeping the passes open near the Line of Actual Control (LAC) to ensure that troops can be moved forward in a quick manner if required.
The Defense Ministry recently stated that the unilateral and provocative actions by the Chinese to change the status quo by force, in more than one area on the LAC, have been responded to inadequate measure. To resolve the issue, the militaries of the two countries have been engaged in dialogue at various levels while trying to defuse the standoff.