Jayanti Oza
PLANO TX: The Gujarati Senior Society PLANO (GSSP) organized a picnic at Russell Creek Park last week with seniors participating enthusiastically After a year, all the seniors met face to face and seemed very happy.
Strict adherence to CDC rules on the use of masks, social distances, and sanitizer. Candidates running for PLANO and Allen Town in the May 24 election gave details of what they would do for the city if they voted for them. Sandeep Srivastava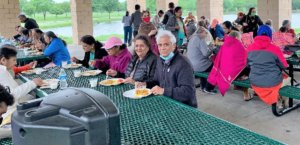 GSSP President Shri Subhashbhai Shah appealed for those standing for election for City Council PLANO to get them elected by a majority like one Indian besides another candidate Green Boy Rich Smith, a community sympathizer.
Amit bhai and Atman Rawal of IMPACT attended the meeting. Gift bags were given to members. Pramod Shahiwal sang a birthday song to the members and congratulated them all.
The GSSP President Shri Subhashbhai Shah appreciated that despite rainy weather, a good number of members had turned up. He thanked all the members for attending the picnic. Tributes were paid to those who died in Gujarat and all over the world due to Corona.
Thanks were also offered for donating gift bags by RomabenPithdiya, 'Tanmay Jewelers' mask, cookie and water bottles from DhirubhaiBhuva, chips, soft drinks, Crunchi bar, picnic chair from GSSP, arrangement of sanitizers from Power House Pharmacy.
Finally, the GSSP President said by raising funds the organization will help those who are affected in CORONA.The funds will be sent to CM of Gujarat and PM CARE. After that, they all parted, enjoying the extra khichdi, chaas, pickles, papad, potato vegetables and ice cream.