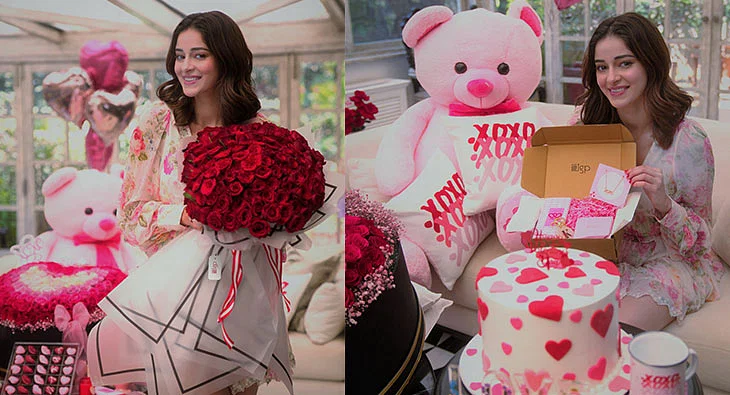 NEW DELHI: Bollywood actress Ananya Panday has collaborated with IGP.com for their latest Valentine's Day campaign. The actress represents today's youth and was found to be the perfect fit for the campaign.
The campaign was recently live on social media, the campaign will witness her looking pretty and glowing in love as she gets ready to look her best for a date with perhaps a special someone. She keeps her fans guessing as she gives a glimpse of the many Valentine's Day gifts she has at home, while dropping no names or hints about who she is giving or has received the gifts from.
She walks to her living room Laden with flowers, hampers, chocolates, teddy and a cake. Ananya's eyes sparkle as she runs her fingers over the pretty flowers, picks up a beautiful heart shaped chocolate, looks at a pretty red and white iced cake and then hugs a fluffy teddy bear. Then, sitting down, she addresses her fans by saying how ready she is for Valentine's day with gifts from IGP. Ananya gushes about the gifting platform's collection of flowers, cakes, hampers and other gifting options as she flips out her phone to encourage fans to go on the IGP app and do the same and choose their perfect Valentine's gifts for their special someone. Finally, she makes a heart icon gesture cheerfully and wishes her fans a happy Valentine's Day before signing off.
We sure hope that Ananya's special Valentine's Day at home went just as perfectly as she hoped and that she had a wonderful time celebrating the day of love with her loved one.
IGP.com is one of India's largest D2C platforms for gifting and occasions and has launched exclusive gift hampers for Valentine's day, and several gifting options, from flowers to cakes to customised gifts for that special someone. Through the campaign, the e-commerce platform is looking to curate a special bond with the youth and help them celebrate the day of love with the best possible gifts.
The multi-category gifting company offers one of the best-curated collections of festival merchandise, gifts, fresh flowers, cakes, plants, gourmet foods & personalised products for all occasions & festivals. It is India's first-ever dedicated Gift platform and the exclusive India partner of Interflora, the world's largest floral gifting company. The brand has a global footprint with customers spanning across 100+ countries and the capability to deliver gifts to over 100+ countries and 1000+ cities in India.
Official Instagram Link: Valentine's Day Gifts 2024