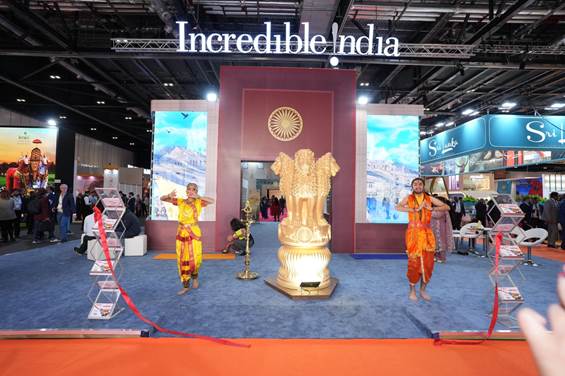 LONDON: Along with various stakeholders, including the tour operators and state tourism departments, India's Ministry of Tourism participated in the World Travel Market (WTM) London from November 6-8, showcasing varied tourism products.
The products and series of transformative experiences for travellers to India were shown at the WTM under the theme 'Incredible India! Visit India Year 2023'. according to an official release of the Ministry of Tourism.
Speaking at the event, the Deputy High Commissioner of London, Sujit Ghosh said that India has several historical wonders. He said, "The forts and palaces of Rajasthan, the ancient temples of Khajuraho and the cave complexes of Ananta and Ellora are just a few examples of the historical wonders that await you in India."
"…When it comes to cuisine, India is a food lover's paradise," he added.
The formal inauguration of the Indian Pavilion was done by the Secretary, Ministry of Tourism of India, V. Vidyavathi, and High Commissioner of India to the UK, Vikram Doraiswami, in the presence of Rohan Khaunte, Minister of Tourism, Government of Goa.
Vaidhyavathi, while speaking to ANI said that it is time that we look at both tangible and intangible heritage of India.
"…We are now trying to say is that you cannot enjoy the tangible heritage of India until you understand the experience and intangible part of that as well, so our focus is now to work both on the tangible and intangible heritage of India. for example, languages of india, music, dance ..all of them are intangible cultural art forms."
She further stated, "So we are saying that we need to be looking at both because that is what gives you a comprehensive experience of what India can offer."
Meanwhile, Seo Shekhar Gupta of the Madhya Pradesh Tourism Board highlighted the beauty of the state at the UK event and said that MP has a lot when it comes to destinations and tourism offerings.
"Like our ad says, the essence of the ad was that Madhya Pradesh (MP) is so big and diverse ..there are so many tourism offerings that you can't cover this in one lifetime, you have to take reincarnation many times to visit MP and absorb what MP is all about," he told ANI.
"When it comes to destinations, we have everything over there…right from wildlife to heritage to spiritualism…now everything has been now encapsulated under the ambit of responsible tourism and that's the way forward we have tried to put it in a framework where everything relates to the community, leads to community empowerment," he added.
Notably, the Indian Tourism Ministry and the High Commission of India in London organised an evening of interaction with the UK's travel and tour operators and other stakeholders to promote the theme 'Incredible India! Visit India Year 2023'.
The evening featured cultural programs and a spread of Indian delicacies presenting to the UK audience the rich cultural and culinary heritage of India.
The evening was also an effort on the part of the Ministry of Tourism to use WTM 2023, London as a platform to bring together professionals from different sectors of the travel and tourism industry through networking, business opportunities, and exchange of ideas and information. (ANI)
Also Read: Insta Tourism L.L.C. Introduces BookMyBooking.com: An Online Travel Booking Service