Vidya Sethuraman
India Post News Service
Indian commerce minister Piyush Goyal, who is on a four-day visit to the US, participated in the Investors Round Table organized in collaboration with the US-India Strategic Partnership Forum and Indiaspora. Venture capitalists and entrepreneurs attended the event from a wide spectrum of industries in the US, including from domains of energy, manufacturing, logistics and technology, amongst others.  Earlier in the day, the Minister visited the Tesla Factory Unit in Fremont and interacted with the senior executives of the Tesla group.
In a roundtable organized by USISPF and Indiaspora in Menlo Park, the Minister held wide-ranging discussions with the participants and highlighted the various steps taken by the government of India to improve the ease of doing business. He highlighted how the country offers promising opportunities for investors, thanks to the unique combination of our demographic dividend, manufacturing capabilities & conducive business environment," Goyal posted on X, contending India is an attractive investment destination for the world.
As India continues to grow, its economy will become more essential for American businesses. As its population urbanizes and enters the global middle class, its appetite for American goods, innovation, and culture will only expand, said the Minister.
He added India and the US are natural partners and have trade complementarities, long-standing strategic and economic relationship, people to people contact, and both are vibrant democracies too. He added the Indian diaspora has widely contributed to the US economy.  He lauded an 'energetic and youthful nation' that 'wants the good things in life and is willing to experiment and take risks to achieve its goals.'
Piyush Goyal, on a visit to the United States from November 13 to 16, arrived in San Francisco Monday(13th) morning to attend the IPEF ministerial meeting. During his visit, he will also attend the Asia-Pacific Economic Cooperation (APEC) Summit in San Francisco.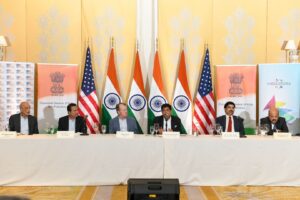 Also Read: Piyush Goyal holds meeting with US Trade Representative Katherine Tai in San Francisco