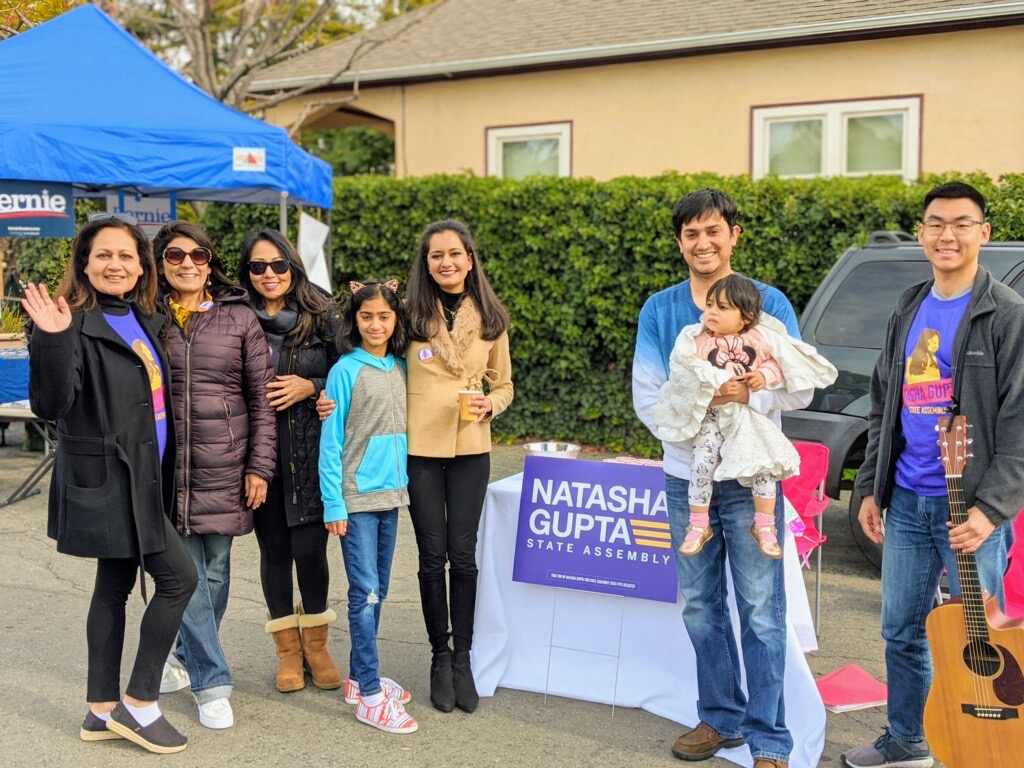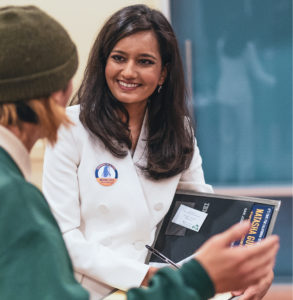 At 28, she could be the first Indian American woman to serve in the California State Assembly. How Natasha has inspired her community to take action.
"Hi sir, are you able to vote?" she calls out to a shopper passing by. Bundled in overcoats and mittens, Natasha Gupta and her volunteers are hard at work in 45-degree weather, fueled by cups of hot chai from the Indian restaurant at the corner. They've been tabling every Sunday since early January at the Fremont Irvington Farmers Market, reminding locals to vote by March 3rd.
She calls these tabling sessions her weekly "office hours," where constituents know they can find her to ask questions. Among attendees, includes a family from Newark whose door she had knocked, a young woman from Santa Clara who wanted to know her plans for healthcare and debted student, a man from San Jose who tried to take a couple of yard signs to put in his neighborhood. It's a part of the community-centered approach that has defined her campaign.
From the beginning, Natasha has called her campaign a "people-powered movement" in Assembly District 25, which covers Fremont, Newark, Milpitas, San Jose, and Santa Clara. That meant: a volunteer staff, no corporate PAC or individual interest donations, and a significant initiative in the first month: getting 1000 petition signatures from registered voters in the district in place of paying a filing fee, attained by going door-to-door in the five cities. One of her volunteers, Ben Udelson, regularly drove from San Francisco to help support.
"We started from the ground up as a grassroots campaign," says Udelson. "Natasha also had no previous political campaign media, so I've had to take photos and videos of Natasha in as many events as possible– even when she's door knocking." A litany of videos and photos documenting her campaign can be found on her campaign's Facebook page, "Natasha Gupta for Assembly 2020." Among them is a video showing how jubilant her volunteers felt after getting ten signatures in one hour of door knocking. It captures how arduous it was to get 1000 signatures for a campaign that used no paid circulators.
In the end, the effort paid off– close to 50 volunteers worked during a month and a half to attain the signature threshold. On December 5th, 2019, Natasha took the oath to be a candidate on the March ballot.
Perhaps her unconventional, grassroots-heavy style can be attributed to the fact that Natasha does not have the background of a typical Assembly candidate. She's a millennial, a daughter of Indian immigrants, and no stranger to issues that have been at the top of the mind for her district and her generation– the rising cost of living, low wages for new grads, and access to opportunity. When Natasha first started her career, she was a marketing assistant making minimum wage.
She could not afford to rent anywhere close to her office in San Jose. She commuted three hours a day from her parent's home in Danville, saving up to put herself through night school classes in computer science while working full-time.
Within six years, Natasha worked her way up to a senior product role at a Fortune 500 corporation. Much of that experience shows in how Natasha has run her campaign, where she has taken the time to attend city council meetings in every part of the district, regularly held lengthy policy sessions with staff to prepare for candidate forums, and conducted "Scrum-style" team meetings to coordinate volunteer outreach, fundraising, media, and more.
In many ways, "Team Gupta" mimics a technology startup in its scrappy approach towards political campaigning. Missing from her campaign are glossy pictorial catalogs with staged constituent photos and consultant-heavy language, opting instead for a one-page, single-sided flyer that gets straight to her five-point plan for California: a statewide healthcare system that offers a public option, comprehensive college cost reform, ending the epidemic of gun violence, rehabilitation and housing for the homeless, and a statewide plan to address climate change.
Running for office, and having a fighting chance, had seemed unlikely at first. "I'm not from the traditional class of local government. I don't come from a political dynasty. I've spent my adult life just being your usual desi kid that studied hard, got a good job, got married," says Natasha. But after 2016, she saw how the political culture changed, and an opening for outsiders had emerged. "When I saw people of all backgrounds running for office and winning, I saw a demand for representation that looked and sounded like the communities we live in."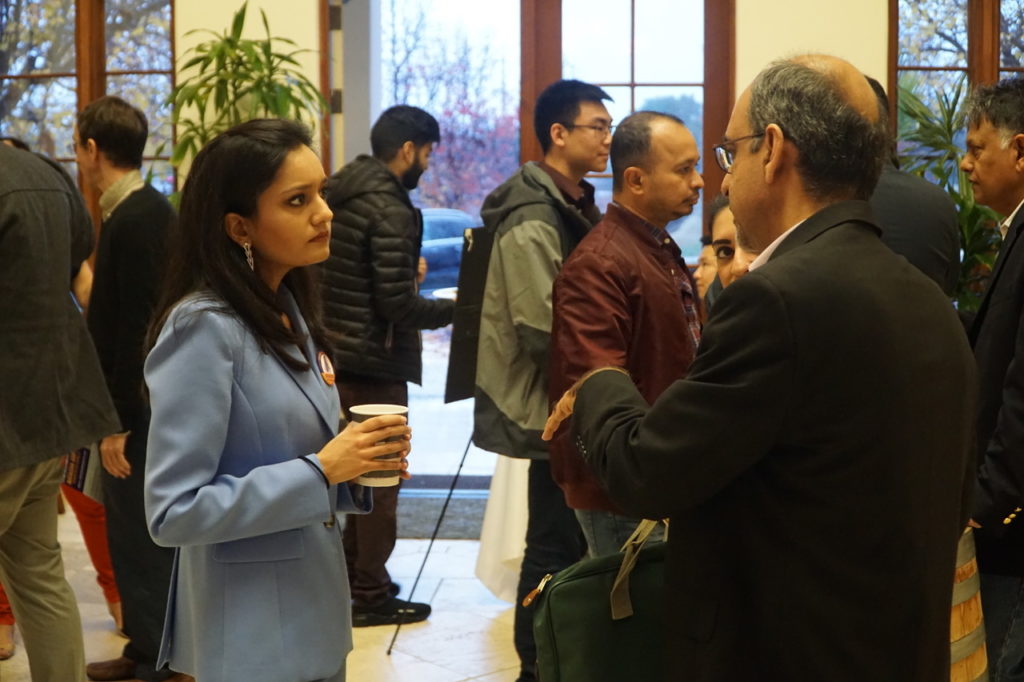 The turning point for her was seeing how in the aftermath of the Gilroy, El Paso, and Dayton shootings, local politicians had shown little initiative to engage her community in San Jose proactively. "It showed me how little our representation understood the people they served.
We had just experienced a shooting in our backyard. Then we were reliving it every time they covered El Paso and Dayton on TV. Despite the fact there was a congressional recess, our politicians took no initiative to host town halls on this topic. They didn't seem to get that we needed them to help us heal. Or maybe they didn't care." On her own, Natasha contacted her local chapter of Moms Demand Action to organize a town hall and vigil at a church in Campbell. On a Saturday night, the event was a house full.
After that experience, Natasha knew it wasn't enough to expect change from the top. "Quite frankly, the situation showed me how career politicians were getting away with complacency. I felt angry about it and wanted to take action," she says. A unique opportunity opened up when the incumbent Assemblyman, Kansen Chu, decided to step down from a safe blue seat in District 25. In a modern political environment, it presented a chance for her to be a viable choice.
What Natasha did not realize is the impact that running for office would make on young Indian Americans who followed her campaign. Her senior policy strategist, Vignesh Iyer, previously interned in the State Assembly and served in student government. He was an early supporter of her campaign.
"When I heard that Natasha was running for State Assembly, I was surprised not by the prospect of an Indian American representing the Bay Area, but that it was a young woman like Natasha," says Iyer. "Having someone like Natasha running for office reinforces the importance of representation at all levels."
For Shivam Patel, a former member of Vice President Joe Biden's campaign and a senior campaign strategist on the Gupta campaign, "I joined because Natasha is a young, hard-working, and intelligent woman that wants to make an impactful change to all demographics. Being on the campaign trail for the past three months now, I can see many residents in the district are stunned when they see her, a candidate, walking door to door and personally talking to them; wanting to know the issues they are facing."
For Iyer, supporting Natasha's campaign is not just about her cultural background. Her message of inclusion and community engagement has reflected in how she has talked about the most pressing issues in the district.
"Natasha makes for a great candidate because she understands the experiences of the community that she seeks to serve. And what has the community been subject to these last few years? Housing availability and affordability in the Bay Area reached a point of crisis many years ago.
Yet, it seems like we are farther away from solving it. Natasha experienced that hardship firsthand as a recent grad who struggled to afford her first home in the district. She gets that many young voters like me are largely cynical about our future in California because the government never seems to be working for us."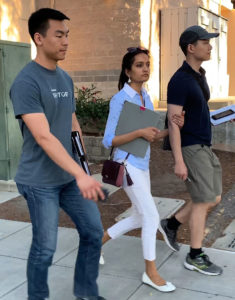 In spite of being a newcomer, Natasha's drive and natural political instincts have attracted experienced public service professionals to help her campaign. One of the forefront members of her campaign management is Awinash Bawle, an alum of Governor Jerry Brown's administration and former congressional staff on Capitol Hill.
"My long professional career in the nexus of federal, state, and local politics and governance unfolded in 2000; back then, I observed that Indian-Americans had reached the pinnacle of so many areas of American professional life, with the glaring exception of public service," says Bawle.
"I always firmly believed that if the core Indian-American values passed down by our parents–hard work, the pursuit of academic achievement, ethics, and compassion– could be wedded to a career in public service, it would present a powerful force in American society." His commitment to helping Natasha win is because "Natasha is a shining embodiment of that background. She is family-oriented, empathetic, and has shown throughout her professional career a strong sense of integrity and capacity to work hard. Her winning a seat in the California legislature would be a strong vehicle for offering precisely that kind of service."
"All right guys, it's 1 PM, let's pack up and head to lunch," Natasha calls out. After a chilly two hours of tabling, the volunteers hastily pack the flyers and fold-up chairs into the shopping cart. They'll be heading for a dosa lunch to refuel. In about three hours, Natasha will hold her Sunday evening "office hours" from 7-9 PM at the New India Bazar in Milpitas.
For more information about Natasha's campaign and platform, visit gupta2020.com. The primary will be on March 3rd.