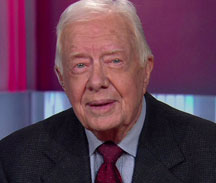 ATLANTA: Former President Jimmy Carter, who at age 90 still travels the world supporting the humanitarian endeavors that have consumed his time in the decades since he left office, has announced he has cancer that has spread to other parts of his body.
"Recent liver surgery revealed that I have cancer that now is in other parts of my body," Carter said in the statement released by the Carter Center. "I will be rearranging my schedule as necessary so I can undergo treatment by physicians at Emory Healthcare."
The statement makes clear that Carter's cancer is widely spread but not where it originated, or even if that is known at this point. The liver is often a place where cancer spreads and less commonly is the primary source of it. The statement said further information will be provided when more facts are known.
Carter announced on Aug. 3 that he had surgery to remove a small mass from his liver.
Good wishes poured in on social media after Carter's announcement, while President Barack Obama said he and first lady Michelle Obama wish Carter a fast and full recovery.
"Jimmy, you're as resilient as they come, and along with the rest of America, we are rooting for you," Obama said in a statement.
Carter was the nation's 39th president, defeating Gerald Ford in 1976 with a pledge to always be honest.
Before his career in politics, Carter graduated from the U.S. Naval Academy and served seven years in the Navy submarine force.
A Georgia peanut farmer who had been a state senator and governor of Georgia for a single term before running for president, Carter ended up seeing his second term for president doomed by a number of foreign policy conflicts, most especially the Iran hostage crisis -losing in a landslide to Ronald Reagan in 1980.
He spent the decades since carving out a reputation for promoting such global issues as health care and democracy, often with his wife Rosalynn by his side. He joined the staff of Emory University and in 1982 established the Carter Center to promote those issues.
His new role as global statesman took him into places often shunned by other diplomats. Carter helped defuse nuclear tensions between the Koreas and monitored the first Palestinian elections. In 2002, he won the Nobel Peace Prize.
According to the Carter Center, he and Rosalynn volunteer one week a year for Habitat for Humanity, a nonprofit that helps build and renovate homes for people in need.
Despite remaining active through the years, Carter's health has recently become the subject of speculation. In May, he was forced to cut short an election observation visit to Guyana when he developed a bad cold.
Carter also completed a book tour this summer to promote his latest work, "A Full Life."
Carter included his family's history of pancreatic cancer in that memoir, writing that his father, brother and two sisters all died of the disease and said the trend "concerned" the former president's doctors at Emory. -AP