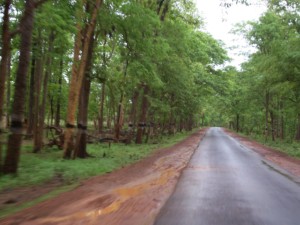 JAMMU: Over 20 destinations have been marked for 'Van Padao' or forest destination, said Jammu and Kashmir's Minister for Forests and Ecology Chaudhary Lal Singh, who laid the foundation stone of the state's ambitious project here in the district.
The minister said all the 23 sanctioned destinations- a hangout site in a forest area will be equipped with all necessary facilities such as fuel pump, eatery point, safe drinking water and washroom.
This (Nagrota destination) is one of the 23 Van Padao or destinations sanctioned for J&K and the step will go a long way in providing much needed facilities to the people going on hangouts, Choudhary Lal Singh said while addressing a gathering right after the foundation stone-laying ceremony.
Singh also laid foundation stone for the similar facilities at Ban, Khanpur, Jagti and Dhammi.
"This is a part of the scheme designed to provide way-side amenities to the commuters and holiday makers", Singh said, adding that all facilities provided here will be eco-friendly.
With that, measures have also been taken to have rain water harvesting to meet the requirements of the visiting people, he said.
Also, stalls would be set up for sale of nursery plants and other forest produce, which will ultimately give fillip to the ambitious programme of afforestation and making the habitations green, he added.
The minister said that need for such facilities were being felt for a long, especially in a state like J&K which has immense potential for tourism.
Asserting that the government is committed to change the developmental landscape of the state, Singh urged the officers of the State Forest Corporation (SFC) to complete the Van Padao project in a stipulated time frame. PTI