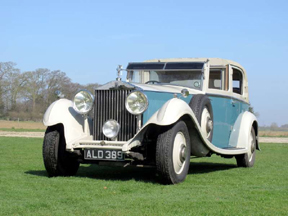 LONDON: A highlight of H&H Classics' next sale, to be held on 20 June at the Rolls-Royce Enthusiasts' Club meeting at Burghley House, will be this glamorous 1933 Rolls-Royce Phantom II bodied in Sedanca De Ville style by Windovers. Records suggest that an Indian prince, Kumar Shri Ranjitsinhji who played cricket for England first commissioned the car but died before receiving the car. The car was taken over by a scion of the Tate (& Lyle) sugar family, Mrs Amy Davies, who purchased it for her daughter, Elsie Partington.
In low spirits following a divorce, Elsie's mood must have been considerably lifted by such a generous gift and the distinctive Rolls became a regular sight in the North West. In those more deferent times, it is said policeman on point duty in Manchester's Oxford Street regularly stopped traffic and saluted as they waved the Rolls through.
An unusual feature of the car's distinctive lines is the wraparound rear window treatment commonly seen on 'Maharaja cars' used for hunting tigers.
As a keen patron of the arts, Partington used the Rolls to carry many of the stars of the day, including actor and playwright Noël Coward, singer Gracie Fields, actor Douglas Fairbanks Junior and singer and composer Ivor Novello. Estimate: £70,000 – 90,000.
The stylish two-tone sedanca will be joined by a fine selection of other cars, predominantly Rolls-Royce and Bentley, including two 1920s Silver Ghost shooting brakes fit for the set of 'Downton Abbey' or 'Gosford Park'.
The Bentley MK V was one of the last cars built by the company before devoting its energies to building aero-engines for the war effort. H&H's Sports Saloon by Park Ward (estimate £120,000 – 140,000) dates from 1940 and is one of only 11 built, of which just seven are believed to exist today.
The sale will take place on Saturday, 20 June at the Rolls-Royce Enthusiasts' Club Annual Concours & Rally, Burghley House, Stamford, Lincolnshire.
India Post News Service