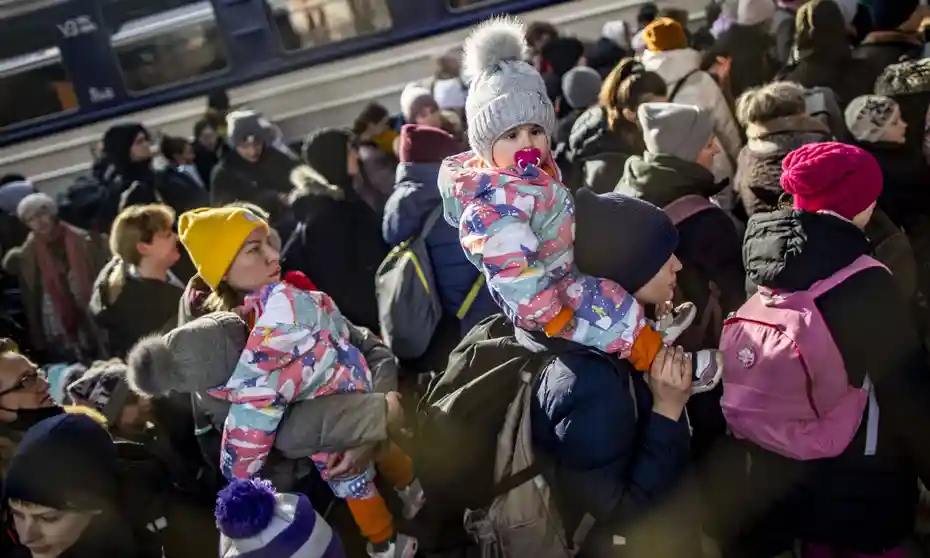 Vidya Sethuraman
India Post News Service
Record numbers of people – 84 million have been forcibly displaced worldwide due to the Ukraine-Russia conflict. More than 2.5 million Ukrainians have left their country and refugees may reach 4 million. Experts at the EMS briefing on March 11 examined the immediate impact of this new crisis and who will be affected, including other immigrants and refugees still waiting in long lines and backlogs.
The amount of people on the move constitutes "the fastest growing refugee crisis in Europe since World War II," UN Refugee Agency (UNHCR) Commissioner Filippo Grandi said last week, and is reminiscent of the 2015 migrant crisis spurred by the war in Syria which resulted in an estimated 1-million asylum-seekers. The flows across the borders are mostly women and children. Male Ukrainian citizens, ages 18-60, are not being let out of the country.
Refugee migration and resettlement experts said that not only the European Union, but also the United States and Canada are facing many difficulties such as the resettlement of Ukrainian refugees. There will be no limit to the number of Ukrainian refugees who can live with UK host families under a new visa scheme, the British Government announced. Under the new scheme people in the UK will be able to nominate an individual or family to stay with them rent-free, either in their own home or in another property, for at least six months.
Meghan Benton, Director of Research for MPI Europe and MPI's International Program said the number of refugees leaving Ukraine had reached 2.5 million, of which about 1.5 million went to Poland, and other neighboring countries absorbed another 1 million. Neighboring borders are overcrowded, and as the fighting prolongs, the number of Ukrainian refugees will continue to rise.
Receiving countries include Poland, which is planning to accommodate up to 1 million Ukrainians, as well as Romania, Hungary, Slovakia, and Moldova. The primary receiving countries in central Europe simply don't have the capacity to meet those needs on a large scale and on a prolonged basis.
Krish O'Mara Vignarajah, President and CEO of Lutheran Immigration and Refugee said we currently allow family members and Ukrainians to come to the United States, but is still considering how to accept Ukrainian refugees on a large scale. She added the US can provide even more financial support and humanitarian aid than it already has. And while it has been helping to ensure that Ukrainians have a place to go, it also can help coordinate resettlement so no one country has to bear the entire burden, while also making it easier for Ukrainians to come to the US.
The Biden administration has already announced $107 million in humanitarian aid to Poland. The U.S. Congress recently approved a $13.6 billion aid package for Ukraine and just under a half of that is for humanitarian assistance. "In a best case scenario the Russian invasion would ultimately fail and then the Ukrainians will be able to return to rebuild once it's safe to do so," said Krish O'Mara Vignarajah, President and CEO of the U.S. Lutheran Immigration and Refugee Service.
Journalist Manuel Ortiz, Ethnic Media Services and Peninsula 360 Press, reported from the Ukrainian borders. He described what he saw at the Polish border that Ukrainians usually had to wait two or three hours to register after arriving at the border, while non-Ukrainians waited longer and were then assigned to different countries, with about 60 percent remaining in Poland.
Experts said no one wants to be displaced, but the truth is that the longer refugees leave their home countries and the more local links they have, the harder it will be to return to their home countries to rebuild.