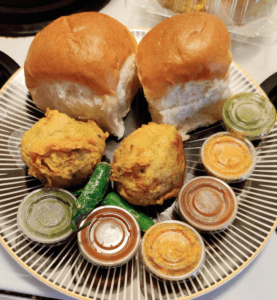 Vidya Sethuraman
India Post News Service
India is a land of culture and more so, the land of delicious cuisine. Right from Jammu and Kashmir to Kanyakumari, she proudly boasts about the plethora of dishes that each cuisine comprises. The 'state in focus' for this piece is Maharashtrian cuisine.  Maharashtra is a beautiful Western Indian state that embraces the pristine beauty of nature as well as the glittering lights of its urban centers.  Every local cuisine of Maharashtra has unique flavor combinations and uses its local spices and ingredients to compliment the flavor of the dishes.
Bay Area, CA residents are fortunate to have many restaurants dishing their favorite food from different parts of India. Vada Pav, authentic Maharashtrian cuisine located at 856, W El Camino Real, Mountain View, is one such outlet offering authentic taste of the Maratha region.  Right from the bites of Vada Pav to the sips of Aam Panna, there's a whole lot to relish at this outlet.
Maharashtra is very famous for its street food and dishes at Vada Pav transport us to Mumbai, which brings the combination of sweet, sour, chilly flavors to pamper your taste buds. Dishes such as vada pav, dabeli, pav bhaji offered by the West Indian state are gaining popularity and it is catching up with the idli, dosas and parathas offered at various Indian restaurants in the US. Vada Pav, Mountain View was opened to the public on the auspicious day of Gudi Padwa April 13, 2021.  The food offered at the outlet is delicious and they make use of aromatic and flavorful ingredients. Peanuts, Garlic, Chillies and sesame seeds are widely used in most of their curries and chutneys, which gives a characteristic zesty and spicy taste to the food.  It is a perfect place to grab a quick-bite.
Though I belong to a South Indian family, I was raised in Pune, Maharashtra where food is considered as 'Anna he Poornabhamha ' which means food is equal to 'Brahma' or the creator of universe, said Mahesh Srinivasan, Owner, Vada pav. My wife is a Maharashtrian and I always wanted to experiment and offer the best Maharashtrian cuisine, hence born Vada Pav, added Mahesh. "The customer must be happy and he/she should leave satisfied that he/she has got delicious and authentic food with no compromise on quality and providing excellent service is the key at Vada Pav" added Mr.Mahesh. He also owns the most popular South India food joint Tirupathi Bhimas, Milpitas.
Touted as a poor man's burger, a vada pav is a quick, grab-and-go meal that can be eaten for breakfast, lunch or dinner. It consists of a spicy potato dumpling sandwiched between two squares of soft bread. This delicious grab-on-the-go meal is very fulfilling, and the chef estimates that 1500 – 2000 of them are consumed at their outlet weekends alone. Pawan Ravi, Head Chef of the restaurant is the backbone of this outlet. He has over 6 years of culinary experience.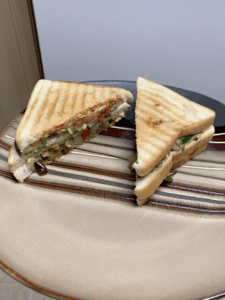 Vada Pav is planning to offer ukadiche modak for the upcoming Ganapati festival in the first week of September. It can be pre-ordered at their website. The signature dishes offered at Vada Pav are Dabeli, Sabudana Vada, Kothambir Vadi, Sabudana Khichdi, Batata Vada, Mumbai style sandwiches, Frankies, Misal pav, Pav bhaji, Bharli vangi, Shirkand, Puranpoli, Bhakri, Zunka, Solkadhi, Aam panna and of course their ubiquitous dish Vada pav relished by all food lovers. The restaurant is open from 11:30 AM to 9:30 PM, Tuesday to Sunday, with over 30 to 35 Maharashtra and Mumbai style vegetarian items offered to the public.
For further information, visit the Official Website of Vada Pav USA