India Post News Service
Dilesh Sheth is a 57-year-old Senior Vice President of a private civil engineering consulting company in Riverside, CA. He started this journey of becoming fit to have biceps, triceps, and a six-pack in 2018. With the help of a professional private trainer, changing his diet and workouts, he set out to achieve this dream.
He won first place Mr. Physique in 2019 in Las Vegas's competition. Then covid happened, and his gym was closed. He maintained the same level of persistence and dedication in his home office that was turned into a gym. He continued with the strict diet of clean food and low carb diet, consisting of high protein and vegetables and no alcohol or sugar.
This year when he got the green signal that the competition was back on, there was no looking back. Over this past weekend (November 6) he received two medals for the age categories 45 + and 50+.
He does this for self-achievement, health and fitness . The medals are a reminder of the hard work and sweat he put in. He wants to motivate men in his age group that where there's a will, there's a way.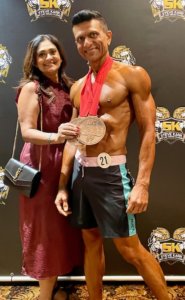 Make small changes in your life, and you'll see the difference.