If you run a small business, it does not mean you can leave it as it is, with no means of representation on the internet. Even if it is a new project and you hardly have any money to invest in it, there are still ways you can launch it without spending a fortune on it. In fact, as little as $20 can be enough.
It goes without saying that $20 is not a kind of a budget that appeals to famous web designers and renowned copywriters. But a small business does not necessarily have to employ all these to prosper.
So, what do you need to build a brand new website for your small business?
Reliable hosting
An easy-to-remember domain name
A neat website template
Unique content
The first two are what you should pay for, as free options, such as free hosting and domain names like domain.ik.bf.ju.biz, are not going to help your business take off. On the contrary, they can have a detrimental effect on your project, because when a company does not want to put a lot of effort into its development and opts for free solutions instead, it is indicative of its unreliability. We don't want it, do we?
OK, so what we want is a decent website that does not cost a bomb. The first thing we should find is a good hosting provider. But how?
The best way to do it is to ask someone who you trust. Is there a friend of yours or your relative who is already a website owner?
Ask him or her what hosting they use and whether it is good enough. If there is no one you can ask, you will have to use online sources.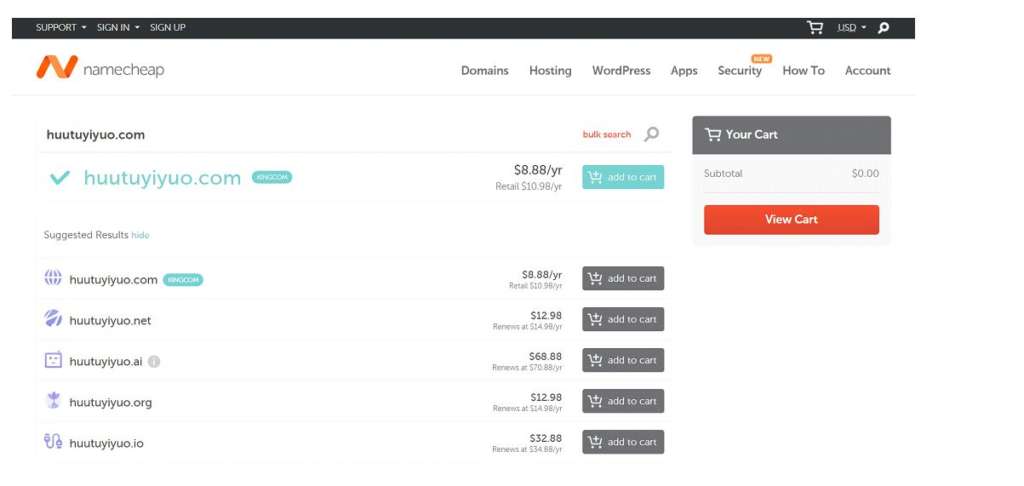 How can I find a great hosting provider?
First, there are reviews. There are dozens of such websites, but the problem is that not all reviews can be trusted. Not only do companies pay for positive reviews, but also their competitors may try to damage some other provider's reputation by posting fake negative reviews. It can be very difficult to identify real ones, so this source of information is not that reliable, although worth taking into account.
Second, there are services that gather statistics on website performance. These are a better option, because they use, well, statistics, i.e. data on how a particular company's equipment has been doing recently, not opinions. One of these is HRANK. HRANK monitors performance of hosting providers' servers and compiles charts in which relevant information is used to rank companies.
Here is what it looks like.
The chart is dynamic. It is constantly being updated, and the one that was at the top of the chart yesterday may come third today. What is great about this approach is that you can choose web hosting that has recently been doing well using the most up-to-date data. Imagine a hosting provider that used to be excellent a couple of years ago. But over the past two years, it has gone downhill and cannot be considered a reliable place to host your pages anymore. The positive reviews from its halcyon days are still here, but the situation has changed. This tool can help you get an insight into what it is like today.
The three columns that are most important for you to consider are those with the green check marks (see below).
The uptime, response and overall rating are what can help you choose a hosting provider with high quality services.
OK, once you have found the providers you like in terms of performance, you can choose the most affordable one. Be careful and read Terms of Use: some hosting options may turn out to be not that cheap in the long run. Promotional price tags may differ significantly from what you will be charged for the second month/year. You can find a nice offer at around 4 to 10 dollars a month. Remember: one-dollar hosting is definitely cheaper, but the quality is sacrificed. Quality hosting costs more, and the most reputable companies can charge you as little as $4/mo and provide great services.
So, what next?
Another thing we are going to need is a domain name. You can either purchase it from your hosting provider (if it does offer this service – most of them do) or choose to get it from another company, in case you want to move your website later to another hosting. If it is the second way that you prefer, go to a website that sells domain names.
One of the most popular websites specializing in domain names is namecheap.com. As its name suggests, it offers cheap domain names.
As of this moment, you can get a .com domain for around $9 a year.
Other options, such as .net and .org, cost more, but the good old .com is still considered your best bet.
OK, now we have a cozy apartment for our pages at a reliable hosting provider's and a domain name – and we have not exceeded the $20 budget!
The remaining two basic things are a website template and content. As for the former, there are many websites that offer free templates. Many of them are customizable, which means you can adjust the elements the way you want. Do not forget that regardless of what your small business is about, its website should be responsive, as today most people access websites via portable devices (smartphones, tablets, etc.). The message here is that you really can find a good website template for free.
As far as content is concerned, it is quality, not quantity or the number of keywords used, that you should focus on. If you want to save on content and avoid hiring a professional copywriter, do not plagiarize or copy someone else's content. You can write your own articles – for free – and make your website useful. Keep in mind that people will visit your small business' website because they want to find a solution to a particular problem. Think about what these may be and create content that makes visiting your page worthwhile. All this does not require any financial investments.
As you can see, it is not difficult to set up a website for a small business on a budget. Even as little as $20 can be enough. What is required in much more significant amounts is your dedication, efforts and eagerness to help those who come across your page to find what they are looking for.