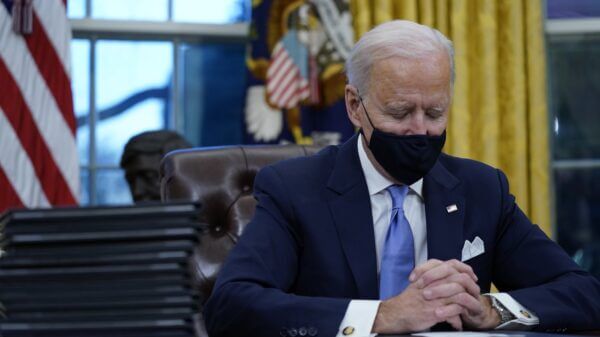 Vidya Sethuraman
India Post News Service
On immigration policy, Joe Biden presented himself as the "anti-Trump". But a record breaking increase in border crossings after he took office during Covid times have led the Administration to keep some of the harsh policies of the past while attempting to implement long-term changes. Where has the Administration delivered and where has it failed to create a more humane immigration system. Experts discussed policy, border, and immigration courts delve into the details at the EMS call on August 8. When President Joe Biden took office, many immigrant advocates were cautiously optimistic that the tide would be changing for their cause.
Muzaffar Chishti, Senior Fellow, Director, Migration Policy Institute office at NYU School of Law, who tracked hundreds of immigration policy changes during the Trump Administration, provided an overview of the changes implemented by the Biden Administration. He recalled that the Trump administration was the most aggressive on migration. Meanwhile, Biden, who has been in the presidency for 6 months, has taken 155 immigration actions. "He ended Trump's travel bans, paused the construction of the border fence; and on the first day of his administration, he announced an aggressive immigration reform package to legalize 11 million, which had not been seen in another presidency in 50 years ". Chishti believes that Biden administration faces many challenges. The two parties in Congress are split, and Biden needs more support.
Nicole Ramos, Border Rights Project Director at Al Otro Lado, based in Tijuana, Mexico works with asylum seekers in Tijuana, Mexico, who wish to present themselves to immigration authorities in order to seek asylum in the United States. Nicole explained that the MPP program also known as Migrant Protection Protocols forced tens of thousands of asylum seekers to return to Mexico after appearing before immigration authorities to wait for immigration court.
As a result, thousands of people have stayed in Mexico, some for up to two years. Instead of reopening all cases, they have chosen to do it on a case-by-case basis, which leaves people stuck in Mexico for longer periods. The latest blows have been the administration's recent announcements that it will resume rapidly deporting families at the US-Mexico border and that it intends to indefinitely maintain the pandemic-related border restrictions under Title 42, a section of the Public Health Service Act that allows the US government to temporarily block noncitizens from entering the US "when doing so is required in the interest of public health."
Ava Benach, founding partner of Benach Collopy, an immigration attorney based in Washington D.C. concentrating on representing clients in removal proceedings and in litigation matters before the federal courts. She said that we are living a story with two sides, one on the border and one in the rest of the country. "It's better than Trump, but it's not where we want to be." Benach believes that the new government's immigration policy has indeed made great progress, and the Immigration Bureau is also taking active actions.