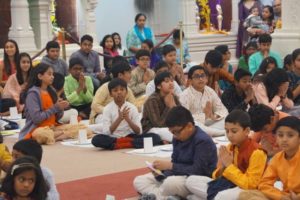 ASHWIN PATEL
ST LOUIS: Bal Vihar of St Louis celebrated Diwali on a grand scale with a very encouraging participation by its students and guests at the Hindu Temple Community Center last week.
Diwali is always an exciting time for Bal Vihar students and parents alike. It is one of the most anticipated events and close to over 700 people attended the event.
The students were dressed in traditional attire and proceeded to the temple to perform the puja. They all carried diyas (earthen lamps) made by them. While the students performed the puja, volunteers were managed the food and firecrackers distribution among the parents.
After the puja, the students went and burst firecrackers. Soon after the fireworks were over, designated volunteers gathered their brooms and pans to clean up the place. It was quite a task to clean up an area that was no less than 3,000 square feet.
.Center for Indian Cultural Education, also known as Bal Vihar of St Louis, is a non-profit organization. Since its inception in 1992 it has been serving the Metro St. Louis Indian community.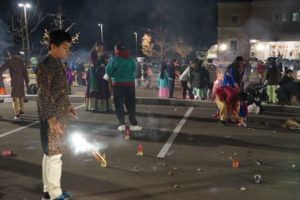 The primary focus of this organization is to provide Indian cultural education to students aged 5-18, and its application and integration with the global multicultural and multifaceted society. Over last 20 years Bal Vihar has helped groom a breed of multi-cultural global leaders of the next generation that have been shaped by the best of the cultures from east and west.
These youngsters understand the cultural values that have been instilled in them through the rigorous program. The ultimate goal is "to throw the light of cultural knowledge on every child, to make every child an outstanding citizen and to spread the song of peace and harmony around the world".