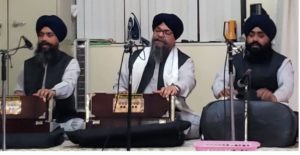 PRABHASIMRAN SINGH
CHICAGO: The 550th birth anniversary of Guru Nanak, the founder of the Sikh faith, was celebrated with great fervor at Devon Chicago Gurudwara Sahib November.
The Gurpurab was celebrated with the cooperation, contribution and assistance from the whole holy congregation. Langar was served after the Ardas.
Bhai Teerath Singh, Bhai Trilok Singh and Bhai Bachan Singh rendered excellent service by connecting the congregation to the principles laid down by Guru Nanak Dev. They sang Gurbani Kirtan and shared the historical importance of the day.
Guru Nanak Dev was born in 1469 AD to Mehta Kalu and Mata Tripta at Rai Bhoye di Talwandi in Pakistan which is now called Nankana Sahib. The year 2019 marks his 550th birth anniversary. He, accompanied by Bhai Mardana, undertook four major spiritual journeys to preach the message of oneness of God and to guide people derailed from the path of God.