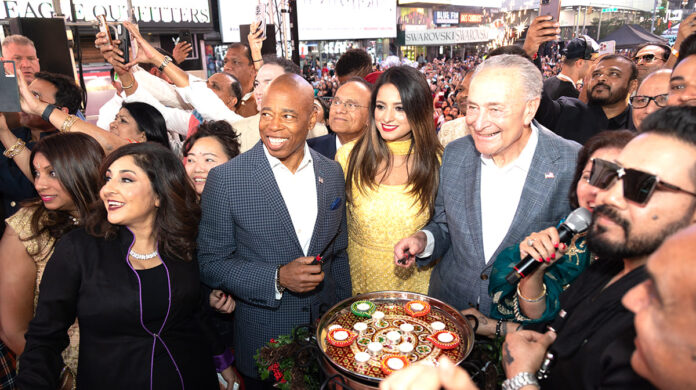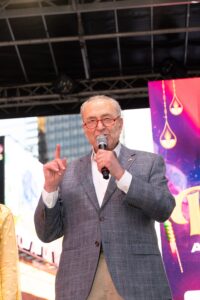 Gopi Dairy Diwali at Times Square, presented by KIA, in 2023, brought the heart of Times Square alive with a celebration of cultural diversity, equity, and inclusion. The event coincided with the celebration of the NYC Diwali school holiday, providing an ideal backdrop for the festivities.
Diwali, the Indian festival of Lights, traditionally symbolizes the triumph of good over evil and light over darkness. However. Diwali at Times Square, 2023, emphasized the importance of illuminating the inner self and promoting unity, enlightenment, love, peace, and harmony to create a more peaceful world.
"The festival prioritized including children and teaching them to be responsible citizens, compassionate individuals, and good neighbors. Recognizing America as a nation of immigrants, the event aimed to unite people from diverse backgrounds, focusing on education to foster unity and diversity", said the Founder of Diwali at Times Square, Neeta Bhasin.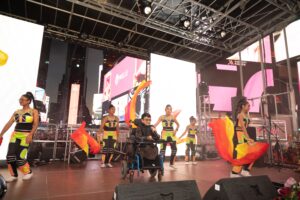 KIA America, the presenting sponsor of Gopi Diwali at Times Square, proudly shares their support for this vibrant event: "Diwali's core values of balance, harmony, and joy are mutual guiding principles of Kia's 'Opposites United' design philosophy, which takes inspiration from the contrasts found in nature and humanity," said Steven Center, COO & EVP, Kia America. "That's why Kia is proud to participate as presenting sponsor of Diwali in Times Square and recognize the festival of lights."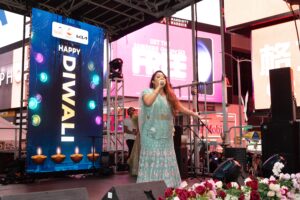 The title sponsor of this year's festival was Gopi, a family-run dairy company from California, serving the South Asian community for over a decade. Annie Keropian-Dilsizian, Marketing Manager for Gopi expressed the significance of such a historic event and the importance of spreading the universal message of peace and love through Diwali, the festival of light, knowledge, family, and food.
"Let Gopi Dairy illuminate your kitchen with purity and tradition, infusing your Diwali with joy and delight!" To reinforce the message, festival-goers in attendance were given complimentary full-size product samples of Gopi Lassi in Mango, Rosewater, and Original as well as Gopi Paneer to cook and enjoy at home.
One of the evening's highlights was the grand Diya (lamp) lighting on stage, synchronized with the countdown on the One Times Square tower. The ceremony drew distinguished guests, including Eric Adams, NYC Mayor, Senator Chuck Schumer, Deputy Mayor Meera Joshi, Consul General of India Randhir Jaiswal, Assemblywoman Jenifer Rajkumar, Justice Karen Gopee, and various esteemed dignitaries.
The event featured an awards segment to recognize individuals who have made substantial contributions in their respective fields.
Neera Tanden, Director of the US Domestic Policy Council, was honored with the "Woman of the Year Award in Public Service,"
Shailesh Jejurikar, the COO of Procter and Gamble, received the "Man of the Year in Private Service."
Assemblywoman Jenifer Rajkumar, instrumental in establishing the NYC school holiday and a strong supporter of Diwali at Times Square, was presented with the Samman Award.
NYC Mayor Eric Adams said "It's our responsibility to let the light triumph over darkness, and that's what this celebration symbolizes.
Assemblywoman Jenifer Rajkumar expressed her joy, "With your support, we successfully made Diwali a public-school holiday in NY City, enshrining this important cultural celebration into law".
Senator Chuck Schumer said he loves the Indian community. He further said 'I wrote laws to allow more Indians to come to America and New York. The more Indians are in New York, the better New York is. I will change the law to make it more so'.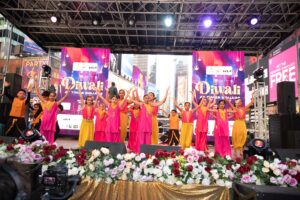 Randhir Jaiswal, the Consul General of India, NY stated, "As we celebrate Diwali in Times Square, we mark not just a festival but a milestone in the recognition of our culture, as Diwali becomes a public holiday in schools."
The "Light Up Concert" featured Bollywood sensation Mika Singh, Indian American singer Shuba, and local talent, making it a musical spectacle. The event showcased the city's vibrant cultural diversity and celebrated individuals who have left an enduring impact on society.
A R Helping Hands Diwali at Times Square is an annual event that celebrates Diwali with grandeur, bringing together people from diverse backgrounds to embrace unity in diversity, honor outstanding achievements, and celebrate the festival of lights.
For further information, visit https://diwalitimessquare.com or contact 212.216.9305.