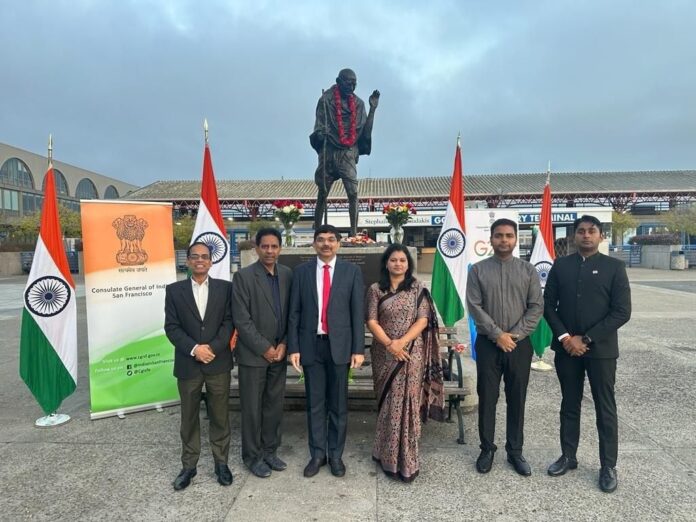 Vidya Sethuraman
India Post News Service
On the occasion of Mahatma Gandhi's 154th birth anniversary on Monday (2nd Oct.), commemorations were seen in different parts of the world, including countries like the United States, United Kingdom, France and Israel.
Mohandas Karamchand Gandhi played an influential role in India's freedom movement and has become a global peace icon. Many world leaders have idolized Gandhi's ideals of peaceful resistance and non-violence.
Also fondly called 'Bapu', Mahatma Gandhi was born on October 2, 1869, and devoted most of his life working for the dignity and equality of all people.
Prime Minister Narendra Modi paid his tribute to Mahatma Gandhi on his 154th birth anniversary.
In a tweet, the Prime Minister said that Bapu's timeless teachings continue to illuminate everyone's path. Mahatma Gandhi is fondly remembered as Bapu, or the father of the nation.
US Ambassador to India, Eric Garcetti commemorated Gandhi's birth anniversary, saying that his message of non-violence is a beacon of equality and justice worldwide.
Consul General Dr. K. Srikar Reddy paid his respects by offering floral tributes to Mahatma Gandhi on the eve of his 154th birth anniversary in San Francisco.
Consul General Somnath Ghosh, CGI, Chicago paid homage to Mahatma Gandhi on his 154th birth anniversary. His message to follow path of truth, non-violence continues to motivate and inspire the world.
Consulate in collaboration with Bharatiya Vidya Bhavan marked Gandhi Jayanti and International Day of Non-violence in Manhattan, New York. Consul General Randhir Jaiswal urged the gathering to bring more of Bapu's life and legacy in their daily existence. He talked about Swachh Bharat campaign and its Gandhian inspiration.  The Mahatma's ideas on social harmony and respect for the environment are critical for building a better tomorrow