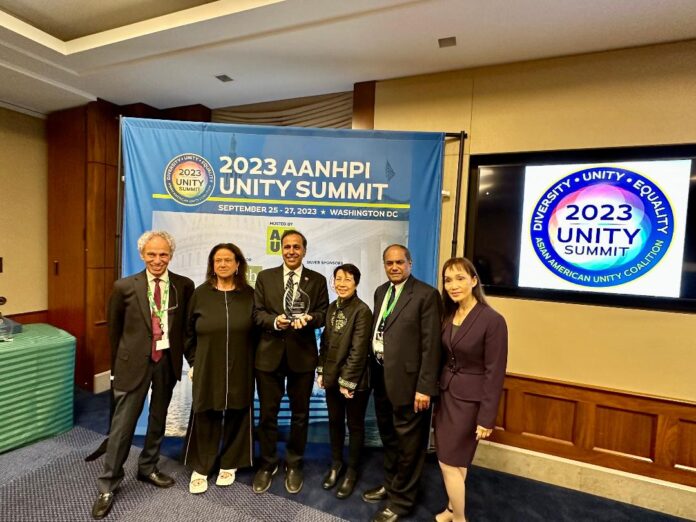 India Post News Service
The Asian American Unity Coalition (AAUC) recently held a historic Unity Summit in Washington, Sept. 26-27, 2023.
The summit underscored the strength of solidarity among Asian American, Native Hawaiian, and Pacific Islander (AANHPI) communities. The summit convened with over 60 attendees representing diverse ethnic leaders from 19 states with age ranges from under 25 to over 65.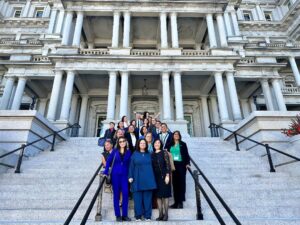 The AAUC, a coalition that encompasses dozens of nonprofit organizations and lifetime members, embodies the rich tapestry of AANHPI communities, including Indian, Chinese, Filipino, Japanese, and Polynesian Americans, among others. With its mission to advocate for and uplift these diverse communities, the AAUC stands as a unifying force dedicated to addressing the unique needs and challenges faced by AANHPI individuals and organizations across the United States.
Key highlights of the Unity Summit included comprehensive educational sessions on crucial legislative matters at the Rayburn House Office Building, fostering discussions and actions to drive meaningful change. Attendees were briefed on the following important bills:
Eliminating Backlogs Act of 2023 (H.R. 1535) – Focusing on alleviating visa backlogs affecting AANHPI communities.
Teaching Asian American, Native Hawaiian and Pacific Islander History Act (H.R. 3434 and S. 1702) – The keynote issue, aims to promote the inclusion of AANHPI history in American education.
Korematsu-Takai Civil Liberties Protection Act of 2023 (S. 129) – A pivotal bill focused on safeguarding civil liberties within AANHPI communities.
Afghan Adjustment Act (H.R. 4627 and S. 2327) – Addressing critical issues concerning Afghan refugees.
Preemption of Real Property Discrimination Act (H.R. 3697) – A bill aimed at combating real property discrimination.
The AAUC unveiled the innovative Community Hub—a database designed to connect AANHPI nonprofit organizations with essential resources, enabling them to better serve their members and communities. This tool promises to be a vital resource in advancing the goals and missions of these organizations.
Summit participants also received insights into advocacy best practices and engaged in productive visits to Congressional offices, establishing valuable relationships with staff members while championing priority legislation vital to their organizations.
During the Summit, AAUC proudly honored outstanding leaders and advocates who have made significant contributions to the community:
Rep. Raja Krishnamoorthi (IL-8) was awarded the prestigious Dilip Singh Saund Award for Political Leadership, recognizing his exemplary commitment to advancing the interests of AANHPI communities in Congress.
Rep. Grace Meng (NY-6) received the distinguished Norman Mineta Award for Public Service in recognition of her outstanding dedication to public service and advocacy on behalf of AANHPI communities.
Dr. Romesh Japra, a trailblazing community leader, was presented with the Outstanding Community Service Award for his pivotal role in pioneering community initiatives over the past 35 years. Dr. Japra's contributions include founding the Fremont Hindu Temple and Cultural Center in 1983, initiating the FOG (Festival of Globe) annual India Day Parade and Festival in 1993, and establishing Americans4Hindus (A4H) in 2019. Most recently, in 2023, he founded the Hindu, Buddhist, and Sikh American Congressional Caucus, a groundbreaking initiative dedicated to addressing the concerns of these communities in Congress.
C.C. Yin, the founder of the Asian Pacific Islander American Public Affairs Association, received the prestigious Asian American Philanthropist of the Year Award. Mr. Yin has generously devoted his time and resources to building the capacity of AANHPI community organizations across the nation.
SK Lo, President of the AAUC, stated, "This event showcased the power of unity within AANHPI communities. After many years of working together, the AAUC continues to demonstrate that cooperation helps to lift everyone up."
Angela Anand, chair of Unity Summit and Vice President of AAUC, expressed satisfaction of spearheading this three day event and said, " I am so happy to be able to get a briefing at the White House, which is a first in the history of AAUC, and an educational guided tour of the Capital, and socialize during two and a half hour dinner and dance with DJ, an event to network with people from different states and communities all across the nation".
The AAUC Unity Summit culminated with a tour of the Capitol, as well as a briefing from Philip Kim, representing the White House Office of Public Engagement, hosted at the Eisenhower Executive Office Building on September 27, 2023. This engagement provided an invaluable opportunity for attendees to learn about the actions and priorities of the administration while sharing their interests while discussing pressing issues affecting AANHPI communities on a national level.
The Asian American Unity Coalition remains steadfast in its commitment to fostering unity, advocating for the interests of AANHPI communities, and striving for a brighter and more equitable future for all. The Unity Summit marked an important milestone in this ongoing journey of collaboration and progress.