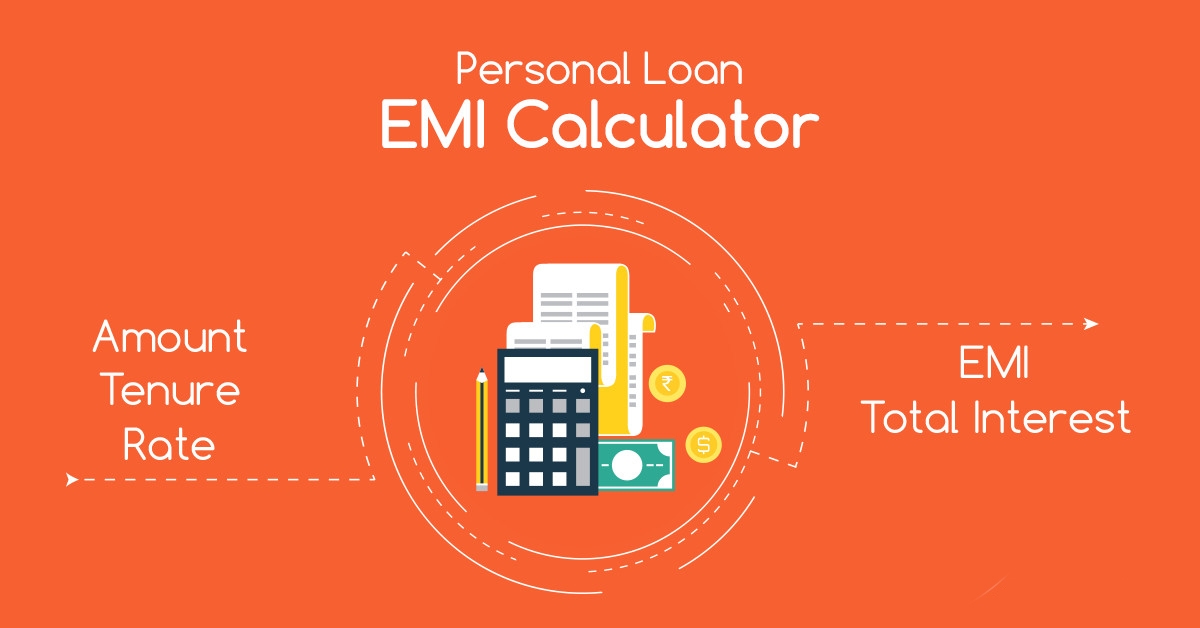 With the ever rising cost of living in India, there might hardly be anyone who has not availed a loan in their lifetime. Nowadays, loans have become an integral part of our livelihood. Every individual feels that he/she is short of finances to meet the financial needs and this is when every individual look up to banks and financial institution to assist in filling the gap between the requirement and availability of finances. With the help of loans, we can even meet the financial goals that might seem impossible to achieve otherwise. There are several scenarios in which one can ask for a personal loan to fulfil some upcoming important expenses.
But availing a personal loan is not the end of the story, you also have to make timely repayments. Any missed or late repayment can harm your credit score considerably.Therefore, borrowers should always calculate EMI before they take a personal loan. It helps the borrower to estimate the amount that they will have to repay every month to the lender and plan the finances beforehand. To calculate personal loan EMIs quickly, borrowers should use personal loan EMI calculators.
However, applying for a personal loan and availing it is not the end of the story, there are some important terms that you should understand when you apply for a personal loan.
What is a Personal Loan?
A personal loan is an unsecured loan, which is taken by individuals from a bank or financial institution to meet their personal needs. It is repaid through Equated Monthly Installments (EMIs) by the borrower to the bank over a specified period of time. It is provided on the basis of key criteria such as income level, credit and employment history, repayment capacity, etc. A personal loan is an unsecured loan and can be availed without any collateral or security. Unlike a home or a car loan, a personal loan is not secured against any asset.The interest rates on personal loans are higher than those on home, car or gold loans because of the greater perceived risk when sanctioning them.However, like any other loan, defaulting on a personal loan is not something that you should be doing as it would reflect in your credit report and harm your credit score which can make you face issues while applying for credit cards or loans in future.
What is an EMI?
EMI or Equated Monthly Installments is one such term that you would come across often when applying for loans of any kind. To explain in simple terms, EMI is a stipulated amount that you will be paying on monthly basis for the repayment of your loan. You can make your monthly repayments either through the auto debit facility which you can easily set-up on your bank account or you can make payments through cheque and internet banking every month without any fail.In both scenarios the Equated Monthly Instalment that you will be paying will remain same along with the tenure for which you need to keep making repayments.
Who can apply for a Personal Loan?
Any salaried or self employed individual aged between 21 to 65 years can apply for a personal loan. But, any individual applying for a personal loan should have a good credit score and a steady income to get it improved. Individuals applying for a personal loan with a credit score of 750 or above have a higher chance of personal loan approval.But, the eligibility criteria to avail a personal loan vary from one lender to another. The general criteria includes your age, occupation, place of residence, income, credit score to check if you would be able to repay the loan on time or not.
To avail a personal loan, you must have a regular income source, whether you are a salaried individual, self-employed person or a professional. An individual's eligibility is also affected by the company he is employed with, his credit history, etc.
Before applying for a personal loan, do detailed research and visit the bank website to check your personal loan eligibility so as to avoid loan rejection. Multiple loan rejections can also lead to a negative impact on your credit score.
Before applying for a personal loan, one should always keep in mind the following 3 important things in order to get the best deal:
Compare various personal loan offers across the top banks and choose one with a low interest rate and flexible repayment options.
Check your personal loan eligibility online so as to ensure you have higher chances of loan approval.
Use an online personal loan EMI calculator to find out how much the loan will cost you monthly.
How to Calculate EMI?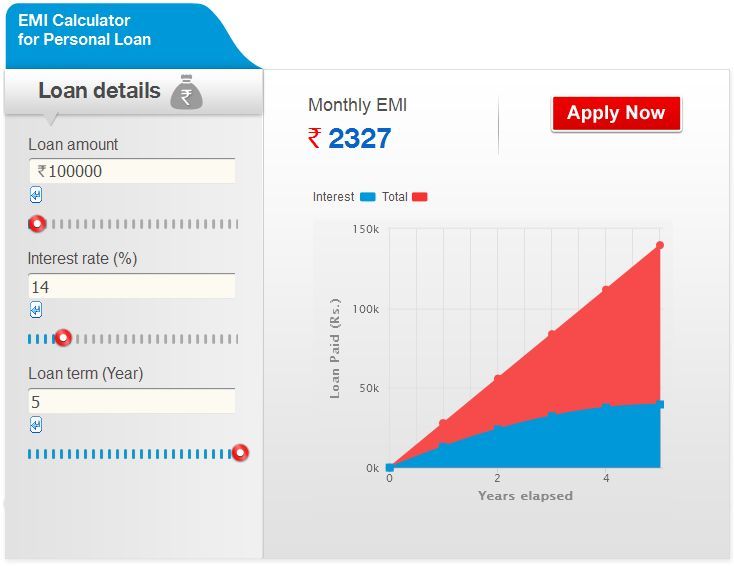 When it comes to calculating EMI there are 3 important factors that one must take in consideration:
The Loan Amount – Your loan amount is basically the total amount that you have borrowed. Many a times, the borrower is sanctioned a larger loan amount but their EMI will be calculated on the amount they have actually borrowed and not on the total amount they have been sanctioned.
Interest Rate – The personal loan interest rate is something that you will be charged by the bank or any lending institution that you might have approached for loan. The personal loan rates are calculated on the reducing balance for the total sum lent.
The Tenure of Loan – Your loan tenure is the entire period for which you take borrowed the loan. On the basis of the tenure only your EMI will be calculated. Your loan tenure is also actually the number of EMIs you will have to pay for repayment of loan.
EMI Calculation Formula
The EMI of a personal loan can be calculated using the below formula:
EMI = P x r x (1+r)n / (1+r)(n-1)
Here, E is the Equated Monthly Instalment, P = Principal or Amount borrowed, R = Rate of interest per annum, N = number of instalments.
Why is it important to use EMI calculator?
Calculating EMIs manually is not only time consuming but are also prone to human errors. These days, EMI calculation can be done using an online personal loan EMI calculator which one can use for free. It is simple and easy to use – all you have to do is input 4 loan parameters into the tool and click on the 'calculate' button to get instant and accurate results. Just enter the principal loan amount, loan tenure, interest rate and processing fee of your personal loan into the calculator and click on the 'Calculate' button in the tool.
Calculating personal loan EMI beforehand proves to be of great importance as it can help you find out the monthly cost of your loan. Depending on your equated monthly instalments, you can create a budget to maintain a low debt-to-income ratio to avoid defaulting or missing on your personal loan EMIs. Depending on the results, you can adjust the loan amount or loan tenure to ensure that your EMI payments does not exceed half of your monthly income. If you opt for a short tenure then you will end up paying higher EMIs whereas if you opt for a longer tenure then you will incur higher interest payments on your personal loan.