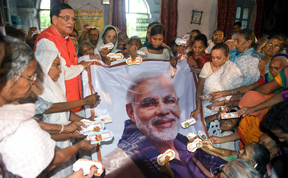 VARANASI: This 'Rakshabandhan' festival will be special for hundreds of elderly widows of Varanasi as they plan to send 1,000 'Rakhis' along with sweets to Prime Minister Narendra Modi, who made his parliamentary debut in May from this temple town.
The event is part of efforts to bring these women, who have been socially ostracized for ages and kept away from festivals and other celebrations, into social mainstream.
A group these women, mostly in their 80s, are engaged in making colorful 'Rakhis' (decorated sacred thread) in Birla and Durgakund widow ashrams here for the festival which celebrates the relationship between brothers and sisters.
"We have planned a target of sending around 1,000 Rakhis to our 'brother', our prime minister," said one of them at Birla ashram.
Social worker Bindeshwar Pathak feels that such an initiative will not just bring cheer in the lives of these women, but will help bring a change in social outlook.
"Widows after death of their husbands still face humiliation and insult from their family members. They are even restricted from attending any auspicious function in their families. They are even not allowed to wear colorful saris, ornaments and have to wear only white clothes.
"So, my idea is how to change the thoughts, behavior and attitude of the people of this country towards widows of India, who are their mothers and sisters," said Pathak, who is founder of NGO Sulabh International which is helping improve the life of around 1,500 such women in Varanasi, Vrindavan and Kedarnath Valley.
Apart from around 900 widows, 200 children from various schools of Delhi and Mathura-Vrindavan will take part in Rakhi celebration which will be organized at Meera Sahabhagini ashram on August 9.
The widows will also tie Rakhis to local saints and brahmins.
"We will organize many such programs for them in near future," Pathak said.
Breaking shackles of social stigma, these women had taken part in Holi, Diwali and Durga Puja celebrations following efforts of the NGO.
Sulabh International, an NGO known worldwide for promoting the concept of low-cost sanitation. It started taking keen initiative in the welfare of widows after the Supreme Court took strong exception last year to the manner in which the bodies of widows, who lived in government shelter homes at Vrindavan, were disposed.
Every widow is given Rs 2,000 per month by the NGO which takes care of their health and other needs.
The NGO has provided the government-run shelters in Vrindavan five ambulances along with medical equipment for timely and adequate medical attention.
Arrangements have also been made to impart education to them in three languages – Hindi, Bengali and English.-PTI