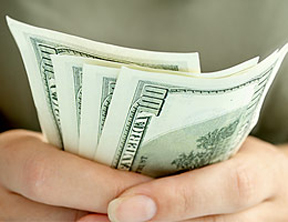 NEW YORK: New Year's resolutions often involve eating better and exercising, but you can also use the start of the year to get financially fit.
Making resolutions is easier than keeping them, however. The Associated Press talked to a few financial experts about what you should be doing to keep your money goals for the year on track.
Here are five money resolutions to consider for 2014:
1. KNOW WHERE YOU STAND
Begin 2014 with an overall view of your finances. Figure out your net worth: Write down your assets – bank balances, retirement accounts and the value of your home. Next list your debts, such as car loans, mortgages or credit-card balances. Subtract your debts from your assets. Save it, and do this exercise annually or twice a year. Writing the numbers down will help you see how your net worth is changing over the years, says Ernst & Young's Elda Di Re, who is a partner at the accounting firm's personal financial services group.
2. THINK SMALL
Aiming to save a big pot of money can be overwhelming and set you up for failure. Instead of resolving to save $1,200 over the year, for example, break that amount into smaller goals, says Jerry Love, an independent certified public accountant and a member of the National CPA Financial Literacy Commission, which aims to educate Americans on personal finances. For a figure like $1,200, focus on saving $100 a month instead. Pulling together smaller amounts may be more manageable. Once you see that you're able to meet that goal after a few months, you're more likely to stay on track for the rest of the year, says Love.
3. PAY YOURSELF FIRST
Make any savings automatic. Ask your employer to send a certain amount of your paycheck to a savings account. If you manually move money to your savings account, you're likelier to forget. "You should invest in yourself before having a chance to spend the money," says Lisa Featherngill, a CPA and managing director of Abbot Downing, the money management business of Wells Fargo.
4. PAY DOWN DEBT
Tackle credit-card debt this year by writing down all the cards you have, their balances and the interest rate you pay. You should increase payments on the card with the highest rate, says Ken Hevert, Fidelity's vice president of retirement products. Paying $100 more than the minimum amount due every month will help you pay it back faster and save money in interest payments, says Hevert.
5. SAVE MORE FOR RETIREMENT
No matter your age, most people should be putting 10 percent to 15 percent of their income toward retirement, says Hevert, who works for a company that manages retirement accounts. That could be in a 401(k) account, a retirement savings plan provided by employers, or an individual retirement account. People are living longer and pensions from employers, which used to help fund retirements, are disappearing, says Hevert. "Retirement has become a do-it yourself project," he says. -AP