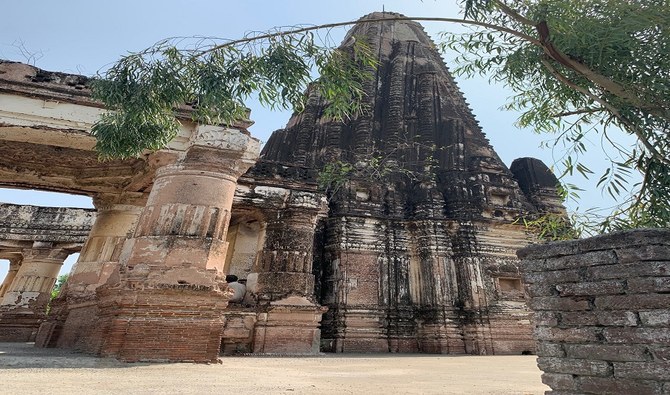 Rajaullah Quraishi
CHICAGO: Sealed for nearly 72 since Partition in 1947 years in Sialkot, Pakistan, an ancient  Hindu temple, the Shawala Teja Singh temple reopened its doors July 27 but a  formal opening ceremony is planned for August 5 when Hindus celebrate the Nag Panchami festival.
American Muslims in Chicagoland have wholeheartedly welcomed this news of reopening of the Hindu temple and ensuring easy pilgrimage for Sikhs to Kapurthala a few months ago.
An official from the state-run Evacuee Trust Property Board (ETPB) offered good news: the government informed a community activist Surinder Kumar that the government had decided that a 1,000-year-old temple in  Kumar's home town Sialkot, sealed for 72 years, would be reopened.
Slogans and graffiti had been etched into the inner walls of the Teja Singh Temple, overrun for decades by drug addicts.
On July 27, the temple finally got a mini launch. Deputy Commissioner Bilal Haider told local reporters that officials had collaborated with the Evacuee Trust Property Board to reopen the temple and "people are now free to visit anytime". However, a formal opening ceremony would be held August 5 to mark the day Hindus celebrate the snake festival of Nag Panchami.
Minority communities in Pakistan are often targeted by right-wing groups and successive governments have in the past been reluctant to embrace the country's non-Muslim heritage. But recent attempts to improve Pakistan's image have included overtures to minorities by the ruling Pakistan Tehreek-e-Insaf of Prime Minister Imran Khan.
Last year, his government announced it would allow Indian Sikh pilgrims to visit an ancient gurdwara in Kartarpur, the place where Guru Nanak, the founder of Sikhism, spent the last days of his life.
The  decision to open the temple in Sialkot is in the light of  a realization that there is a need for a Hindu temple in Pakistan's 13th largest city.
For Ravi Dawan, general secretary of the Pakistan Hindu Panchayat, the Shawala Teja Singh temple's restoration and opening is a big news for Pakistani Hindus.
"Of the 10,000 (Hindu temples) in Pakistan, only 4,000 are functional," Syed Saeed ul Hassan Shah, Punjab's Minister for Religious Affairs, said restoring and reopening abandoned places of worship for Sikhs, Hindus and Buddhists was part of the government's agenda to boost religious tourism and reap its economic benefits