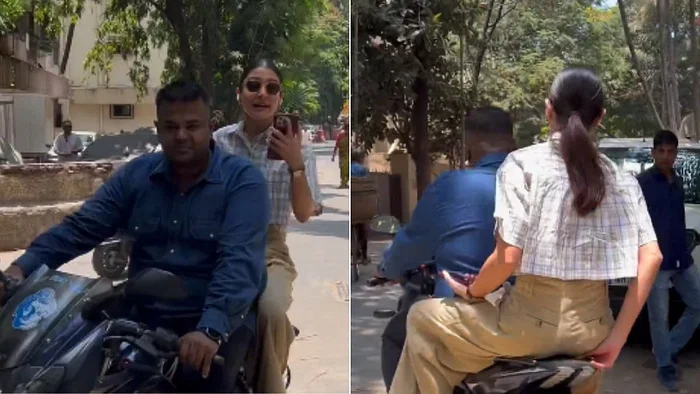 MUMBAI: Days after pictures went viral of Anushka Sharma and her bodyguard not wearing helmets for a bike ride, Mumbai Traffic Police issued a challan against Anushka Sharma's bodyguard Sonu Shaikh and added a fine of Rs 10,500 for riding without a helmet and driving without a licence. Soon after the pictures went viral, many netizens objected to it and reached out to Mumbai police for taking action against them.
On Wednesday, Mumbai Traffic Police tweeted photos of the complaint and wrote, "Challan has been issued under Sec 129/194(D), Sec 5/180 & Sec 3(1)181 MV act to the driver along with a fine of Rs. 10500 & been paid by the offender."
After these photos went viral on social media, Twitterati reached out to Mumbai Police to take action against the stars. Responding to some of them, the Mumbai Police tweeted, "We have shared this with the traffic branch."
Apart from Anushka Sharma, Amitabh Bachchan was also criticized for not wearing a helmet.
However, Amitabh explained in his blog the real reason behind it. He wrote, "Aahhhhhhh …the impotency of content .. Much made out of the bike picture .. ! How you moving on street with stranger ..? No security ..? You are loved take care ..? And then .. NO HELMET .. !!!!!! The fact of the matter is that this is on location shoot on the street of Mumbai ..It is Sunday .. formal permission taken for shoot at a lane in Ballard Estate .. permission sought for Sunday because all offices are shut and there is no public or traffic .. One lane in the region BLOCKED off by Police permission for shoot .. the lane barely 30-40 meters .. The dress I wear is my costume for the film ..(sic)"
He added, "and .. I am just fooling around by getting on the bike , of a crew member .. Not even moving any where, but giving the impression that i travelled to save time ..(sic)"
Big B even mentioned that he would have in fact done it had he been stuck in traffic for real.
He further wrote, "But yes I would do it if there was a problem of punctuality .. and wear helmet and follow all the rules and regulations of the traffic guide lines .. I AM NOT THE ONLY ONE THAT DOES THIS .. had seen Akshay Kumar do this to get to location on time .. wore helmet etc., on the bike of his Security person .. no one could recognise .. and it was rapid and efficient .. and it worked well ..(sic)" (ANI)