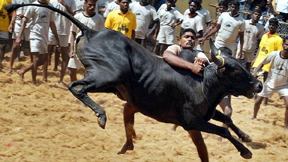 NEW DELHI: The Centre has come out with a notification allowing controversial bull taming sport Jallikattu in poll-bound Tamil Nadu following extensive demand for its restoration by political parties in the state.
The decision to allow Jallikattu and bullock cart races in other parts of the country came despite objections by animal rights groups.
Crackers were burst and sweets distributed in southern districts of Tamil Nadu to celebrate the news as the decision comes just ahead of the Pongal festival. Jallikattu also known Eruthazhuvuthal is a bull taming sport played in Tamil Nadu as a part of Pongal celebrations on Mattu Pongal day.
"…The Central Government hereby specifies that following animals shall not be exhibited or trained as performing animal, with effect from the date of publication of this notification, namely bears, monkeys, tigers, panthers, lions and bulls.
"Provided that bulls may be continue to be exhibited or trained as a performing animal, at events such as Jallikattu in Tamil Nadu and bullock cart races in Maharashtra, Karnataka, Punjab, Haryana, Kerala and Gujarat in the manner by customs of any community or practiced traditionally," the notification said.
However, the Centre has also put some conditions, saying bullock cart race shall be organized on a proper track, which shall not exceed two kilometers.
In case of Jallikattu, the moment the bull leaves the enclosure, it shall be tamed within a radial distance of 15 metre and it should also be ensured that the bulls are put to proper testing by authorities of Animal Husbandry and Veterinary Department to ensure that they are in good physical condition to participate in the event.
Performance enhancement drugs are not to administered to the bulls.
In a tweet, Union minister Pon Radhakrishnan said, "Central government has given permission for holding Jallikattu. Union Minister @PrakashJavdekar called me now to give the good news that arrangements to conduct #Jallikattu in TN has been made."
He also thanked Prime Minister Narendra Modi for the move. . According to the notification, Jallikattu or bullock cart races shall have to be held with prior approval of district authorities and should be duly monitored by District Society for Prevention of Cruelty to Animals and State Animal Welfare Board or district authorities to ensure that no unnecessary pain or suffering is inflicted or caused during the course of such events.
The notification comes after The Animal Welfare Board of India (ABWI) recently advised the Environment Ministry not to overturn the Supreme Court's judgment which presently bans Jallikattu in Tamil Nadu.
On December 23, 2015, Tamil Nadu government had urged the Centre to introduce a bill to amend laws for its conduct.
It had also suggested a special Parliament session for the purpose or even promulgating an ordinance considering the "urgency" of the matter.
Chief Minister Jayalalithaa had urged the Prime Minister to immediately direct the Ministry of Environment, to introduce a Bill to comprehensively and suitably amend relevant provisions of Prevention of Cruelty to Animals Act, 1960 and that it had to be passed immediately to enable conduct of Jallikattu.–PTI