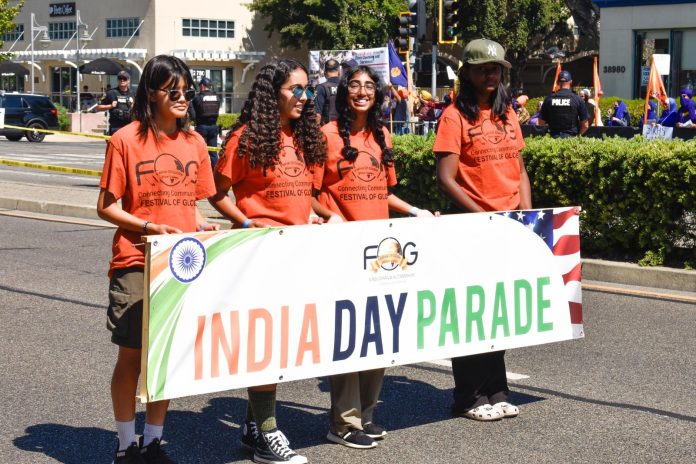 FOG India Day Parade 2023 was an amazing spectacle representing multitude of cultures, countries and diverse participant showing their unity and diversity in a huge showcase and celebration of Indian democratic values, heritage and traditions. 31stFestival of Globe (FOG) India Day Parade and Fair,was held on August 19 and 20 at 39439 Paseo Padre Parkway, Fremont, CA. Organized by Federation of Globe (FOG) and Federation of Indo Americans (FIA) of Northern California.
Mahima Chaudhry was the star attraction and 'Grand Marshal' in the parade this year to engage and entertain the community. Mahima was the lead actress in popular movie Pardes and has iconic song 'I Love my India' filmed on her in the movie.
Indian Lok Sabha member of Parliament Mrs. Sunita Duggal was the Chief Guest bringing a message from Prime Minister Shri Narendra Modi and Indian government to celebrate the Indian values.
This largest celebration of democracy coincides with India Independence Day. This year FOG continued the celebrations and tradition that has been part of Fremont culture for the past 30 years. This year's highlight was FOG India Day Parade that traditionally is held on the main roads of Central Fremont. This spectacle is most anticipated event for Indian community in USA.
This year the Parade had over 60 entries. A new addition this year was 'Jai Hind Riders' group of 30+ motorcycles riding in the Parade to the cheers and excitement of the crowd. Almost all the states in India were represented in a tableau (float). A flatbed truck decorated with the theme of patriotism blended with state and group's key characteristics was something that enthralled the viewers. Despite city's numerous regulations with regard to safety and security, Float makers came up with innovative ideas to entertain viewers while not stopping anywhere along Parade route. It seemed like a constant stream of beautifully decorated, eye-catching entries one after another for the whole two hours from 11am to 1pm.
There were many first-time walking groups and floats making the Parade truly diverse. Parade had a fair amount of global representation with many of Chinese, Burmese, Nepalese and Hongkongers entering the Parade to show case the martial arts, and exercises. It was a difficult task for the three judges to score and come up with winners.
This year's FOG Parade represented a broad cross section of every culture, region and ethnicity of community. Some of the participants were: Bayarea Kerala Sangam, Kashmir Hindu Foundation, Troop 2220, A4H, Anand Yoga, EBMM Dholtasha, Brhama Kumaris, Goshala
Falun Dafa, HSS, Nepalese Group, HKCC, Jai Hind Motorcycles, ,Shruti Swaralaya, FOG Gujarat, Haryanvi Bayarea Foundation,
FOG Bengal, FOG Odisha, Radio Zindagi, Overseas Organization for Better Bihar, FOG Madhya Pradesh, FOG Rajasthan, Prabasi Bay Area, AC Transit, ,Bharati Tamil Sangam, SMAP, North American Chattisgarh Association, and Fremont Unified School District.
Dr. Romesh Japra, Founder and Convener FOG (Festival of Globe), said, "Over the past 30 years, FOG has been focused on integrating communities and preserving, promoting India values among youth. This year's Parade truly represents FOG's motto of Vasudhaiva Kutmbakam, or world is our family"
FOG Chair Parade KP Maheshwari said "It was the support of Fremont City, over hundred volunteers and 50+ community associations that made holding this large Parade smooth, without a hitch and to the immense joy of Parade watchers. This year over 10,000 people were lines up on both sides of the parade route to get a glimpse of their favorite grand marshal, walking groups and floats. This shows that Indian community is passionate in preserving the values, culture and traditions and celebrate world's largest democracy India, while making a place for themselves in world's oldest democracy, USA. "
Pic credit : Moments Captured by Neha, Sitaarre TV and Divyang Vaidya
Ritu Maheshwari
India Post News Service
FOG India Day Parade 2023