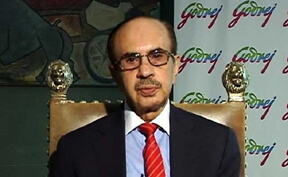 NEW DELHI: Expressing concern over incidents like attacks on churches, industry leader Adi Godrej today said the government needs to control extreme 'Hindutva' elements as continuation of such cases can dampen investor sentiments and "create disturbances".
Although Prime Minister Narendra Modi and some ministers of the government have already condemned such incidents, spread of such attacks could 'create disturbances', the Godrej Group Chairman said.
"I think the government needs to control these elements which try to be 'over-Hindutva' in their approach," Godrej told NDTV.
He further said: "Already some ministers have condemned it. The Prime Minister has also said so. I think that needs to be contained because if that kind of movement spreads it can create disturbances."
Asked if such instances could hurt investor sentiments in India, Godrej said: "Well I don't think it has dampened the sentiment as of now but if such things continue, it would."
Stating that there is a very strong perception of the economy recovering, he said, "A lot of steps have already been taken in terms of reforms, in terms of objectives and I expect economic growth will pick up very soon."
Godrej also presented a differing view to business leaders, including HDFC Chairman Deepak Parekh, Marico Group's Harsh Mariwala and the new CII President Sumit Mazumder, who have talked about a need for the new government's reform measures to start reflecting on the ground.
"We at the CII annual meeting few days ago, had a very positive feel about the economy," he said. -PTI