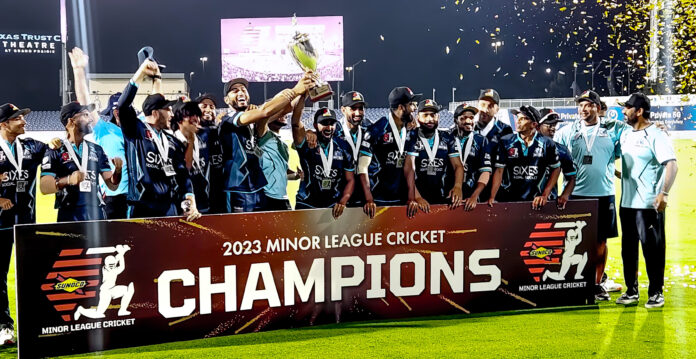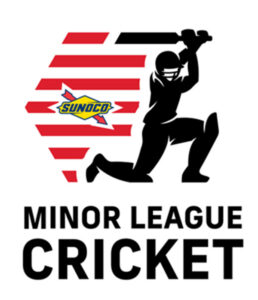 DALLAS, TX: Under the lights at America's premier cricket venue in Grand Prairie, TX, the Lone Star State's own Dallas Mustangs claimed the 2023 Sunoco Minor League Cricket Championship on Sunday (1 Oct.) night. The Mustangs' victory was anchored by a tremendous all-round performance from Nosthush Kenjige, whose 27 runs and three wickets won him Bru Player of the Final honors.
The hometown Mustangs won the toss and elected to bat, but quickly lost star batter Andries Gous in the second over. The Mustangs struggled to score early on, reduced to 46/5 by the end of the 10th over. However, a 56-run lower order partnership between Ali Sheikh and Kenjige gave Dallas a fighting chance, with Sheikh scoring 36 from 25 balls.
Kenjige continued to anchor the inning and contributed 27 before being run out in the twentieth over. The Mustangs reached 121 runs, leaving the Cavaliers what seemed to be a highly attainable target to chase down. For New Jersey, three bowlers — Junaid Nadir Mahsood, Sunny Patel and Adil Bhatti — each claimed two wickets, in an outstanding performance in the field by the Cavaliers.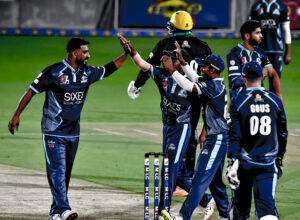 New Jersey seemed intent on popping the champagne as soon as possible, coming out firing with 38 runs from the first five overs, led by 27 from Kennar Lewis. The champagne was soon put back on ice, though, as Dallas picked up wickets at a rapid rate while clamping down on the Cavaliers' scoring, including a match-winning bowling performance from Kenjige who conceded only nine runs for his three wickets across four overs.
Ehsan Adil and Hammad Azam also claimed a pair of wickets each as Dallas ran through the New Jersey lineup, bowling out the Cavaliers for only 77 to win by 44 runs and lift the championship trophy under a moonlit Texan sky.
The Mustangs' victory saw them win the MiLC title for the first time in the tournament's third season, following victories by the Silicon Valley Strikers in 2021 and the Seattle Thunderbolts in 2022.
There was further hardware awarded to Dallas' lineup as AndriesGous won the Laxmi Most Valuable Player of the Tournament honors, the South African star leading all-run scorers in MiLC with 516 at a strike rate of 140.98.
FOR MORE DETAILS CONTACT
Email: [email protected]
ABOUT MINOR LEAGUE CRICKET
Minor League Cricket (MiLC) is a national Twenty20 cricket competition for city-based teams from across the United States, launched in 2021. The most extensive competition in American cricket, MiLC provides a foundational structure as a pathway to Major League Cricket and the United States National Team for the nation's best players.