India Post News Service
CHICAGO: Jesse White, Illinois Secretary of State hosted a grand Diwali Reception under the aegis of National Council of Asian Indian Associations [NCAIA] at Atrium of the state of Illinois building in Chicago with all the festive color, lights, confection, and exchange of greetings.
The Diwali celebrations commenced with lamp lighting led by Jesse White, Il and Indian Consul General AmitKumar joined by NCAIA office bearers including: Harish Kolasani, Anuja Gupta, Dr. Suresh Reddy, Neelam Dwivedi Singh, Keerthi Kumar Ravoori. Jesse White welcomed the guests for the first time to celebrate Diwali deep inside his executive office remarking, "I am a dear friend of the Indian American community and I share the same philosophy of love and kindness with the citizens of Illinois State. "
He said that he was inspired by the dictates of Mahatma Gandhi & Martin Luther King and he follows that creed in inspiring the inner city youth. Diwali truly symbolizes the triumph of good over evil and victory of knowledge over ignorance. Hon. Jesse White characterized Diwali as a magnificent festival that epitomizes the spirit of light and color.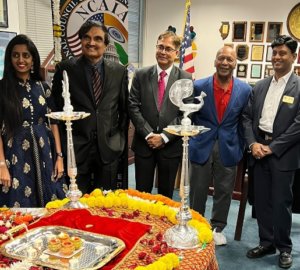 CG Amit Kumar in his remarks gave an in-depth overview of the origin of Diwali and the significance it brings to bear of its enduring symbolism and its central message, which cherishes the brightness over the forces of darkness and knowledge over ignorance. He thanked Jesse White for hosting a welcoming Diwali celebration in his office
Dr. Anuja Gupta, Midwest President opened the celebration highlighting the significance of Diwali and its underlying spiritual philosophy of its victory over evil, darkness ushering in a new light of goodness, victory and knowledge.
Harish Kolasani, National President outlined the goals and mission of NCAIA and the yeoman accomplishments it had made over the years. Dr. Suresh Reddy, NCAIA Executive Vice President presenting the Village of Oakbrook Proclamation to Jesse White and added it is truly historic for the Illinois Secretary of State to open the doors of his magnificent office to celebrate Diwali for the first time. Keerthi Kumar Ravoori, Secretary generously thanked Jesse White for opening the doors of chambers of his office
Ajeet Singh, Vice President presented a flower bouquet and a garland and a shawl in appreciation of Jesse White's gracious hospitality and welcome. Neelam Dwivedi Singh, NCAIA Chairwoman extended Diwali greetings The event concluded with a reception and exchange of Diwali greetings.
NCAIA is an umbrella national organization incorporated in 1993 in Maryland, USA and the Midwest Chapter was established in 2019 in IL