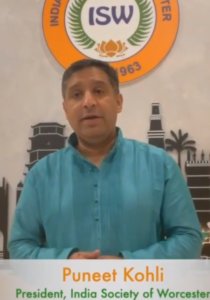 Geetha Patil
NEW ENGLAND: The India Society of Worcester (ISW) from the New England region hosted their third annual celebration of Diwali on Saturday, November 13, 2021. The event is usually held in person at a school auditorium/community hall with Mela, foods, and cultural programs but in view of COVID guidelines it was presented virtually to the community.
The Chair of the Cultural Committee,Amita Rao and team came up with the theme "Deep se deep jale, dil se dil mile" and the event woven around this theme was streamed live on with several hundreds of audiences.
The program started with Lord Ganesh Vandana through a Kathak dance piece. Students of Darshana Jani's Performing Arts of New England presented a semi classical dance for a "Devi Stuti" sung by legendary singers Pandit Ajoy Chakrabarty & Pandit Suresh Wadkar. Young girls and women performed dances 'Happy Diwali' 'Garabo'. Young ISW students and others presented some more adorable Happy Diwali dances.
Devika Dhawan's DFD Academy students presented Bollywood and Fusion medley dances. Disha Mudenur's students put together 'Muqabla and Mumbai Dill' a modern Bollywood dance. Geetika Bajpai's Bawri dance group brought the high-energy dance Dhamaal to add extra colors. Kajal group presented a saari fashion show – a cultural heritage of India. Ekta Dance Academy brought to the stage Bollywood and folk Colors of Dance.
Smita Manjrekar'sAbhushan dance was about women arraying bangles, earrings, and anklet and conveying their deep sentiments hearing the sounds of these trinkets. Rangeelo Rajasthan 'Mishri se Meethi' folk dance designed by Swati Ladiwal' and displayed by ISW Cultural and Language schoolteachers.A Kids Diwali dance choreographed by Tanvi Gahlot entertained the audiences with their cute moves.
The event featured music and dance performances of different states of India, along with many Bollywood and fusion dances. Amita thanked all the participants and choreographers for their active participation and the audiences for their great support and making this program a great event. She also thanked the ISW executive board.
ISW is a cultural, social, educational and charitable organization, which is most vibrant in New England's region. It's President, Puneet Kohli greeted everyone on the occasion and welcomed the entire participants and the audiences to the event.

He also invited everyone to join them on November20thfor their final Diwali program filled with music and dances that is planned in partnership with Tower Hill Botanical garden Boylston, MA. For more information, please visit their website https://iswonline.org/