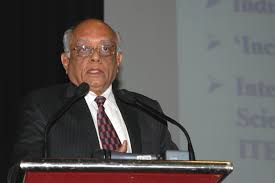 NEW DELHI: India should learn to counter technology domination, which is sought in fields as diverse as human genomics and nuclear weapons, by assuming tech leadership, a former principal scientific advisor to the government has said.
Technology seen as power will continue to be so in the foreseeable future, Dr Rajagopala Chidambaram said at a program Wednesday.
Genomics is an area within genetics that concerns the sequencing and analysis of genome, an organism's complete set of DNA, including all of its genes.
Chidambaram's address was part of a series called 'Metamorphoses', aimed at bridging the gap between advancement of digital, smart technology and its understanding by humans, organized with the active involvement of former foreign secretary Shyam Saran.
During his address at a session on 'Automation, Artificial Intelligence & the Future of Jobs' at the India International Centre in New Delhi, Chidambaram touched upon the subjects of automation, robotics, humanoids and artificial intelligence.
"Futurologist Alvin Toffler had said that 'Yesterday violence was power, today wealth is power and tomorrow knowledge will be power'. And those who have capabilities to transform knowledge into technology will have power, so I will paraphrase Toffler to say technology is power," said Chidambaram, who had an over 16-year stint as the principal scientific adviser.
"Technology domination is sought in fields as diverse as human genomics and nuclear weapons through the mechanisms of intellectual property rights and technology control regimes, and India should learn to counter this through technology leadership," he said at the talk organized jointly by the NITI Aayog, Centre for Policy Research and the India International Centre under the umbrella event 'Metamorphoses'.
On automation, he said it leads to improved efficiency, higher quality and convenience, but it has its disadvantages too, like it increases carbon footprint at a time when we are fighting climate change, and also poses cyber security threats.
"Robots are useful for remote handling of hazardous materials explosives, infectious biological material, etc," he said.
The senior scientist also quoted the World Economic Forum (WEF) Future of Jobs Report 2018 to explain the impact of technological advances on jobs.
"The report says that '…it is critical that the existing businesses take an active role in supporting their existing workforce through reskilling and upskilling'. The drivers of change for technology advances are high-speed mobile internet, AI, widespread adoption of big data analytics and cloud technology," he said.
Chidambaram said AI is used in nuclear field for decision support system and for managing off-site emergency, besides in the cyber sector, adding, that some people are scared of long-term developments of AI.
Anna Roy, advisor NITI Aayog, said the government has tasked it to prepare a national strategy as far as use of technology is concerned.
"That strategy should clearly delineate the role of the government, where it should go and not go, where it should be an enabler and where be at the forefront, how do we position India globally in this field and the concerns related to it, as in ethics and privacy," she said.
Former foreign secretary Saran said Metamorphoses is an initiative that seeks to bridge the gap between the advancement of digital, smart technology and its understanding by humans.
"It also intends to delve into the consequences of the use of such technologies, both good and not-so-good, given their use is very pervasive, and on a daily basis," he said. PTI