India Post News Service
It's tough to understand how to solve the ongoing conflict that is going on in today's world, especially in the U.S. While most of us would think there is no true solution, one 17 year old thinks otherwise.
Suraj Kulkarni, a senior at Corvallis High School in Corvallis, Oregon, recently created "Only Being You", an organization that is dedicated to empowering minority voices through discussions and writing. The Indian American teen launched the organization in July, and is quite pleased with the enthusiastic support that he has received.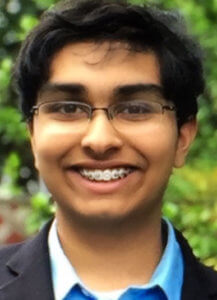 "He has been working on this project for a while and has put a lot of thought into it," said Rajeshwari Gadasally, Kulkarni's mother. Apparently, Kulkarni had been working on the project for a few months, starting after attending his own city's BLM protest.
"I never expected that I would receive this much support from others, and I am so grateful that people love it," Kulkarni said. According to Kulkarni, the only way to effectively help eliminate discriminatory tensions is through awareness. "A lot of people underestimate the power of writing and discussing; writing allows people to authentically express their thoughts and feelings, and discussions help create new perspectives. Even though discrimination and prejudice are quite systemic, spreading awareness is key," said Kulkarni.
So far, Only Being You conducts interviews of politicians, professors, and public role models, has partnered up with more than 15 nonprofit organizations worldwide, has its own blog that features minority student voices (available at onlybeingyou.org), and holds conferences to give students opportunities to connect with others from all around the globe, and share their own experiences with each other.
"We are really excited to hold our first ever Awareness Conference. The conference acts as a platform for students to share their own experiences with other students from all around the world as well as to learn more about different backgrounds. So far, we have had people from more than 11 countries sign up for our conference, and I'm pretty excited," said Kulkarni.
Kulkarni is also a nationally qualified debater, and thinks his experience in debate has helped increase his passion for social justice. "Speech and Debate has been so helpful. Ever since I was in middle school, I've been passionate about various causes, but I felt restricted. My debate experience has definitely made me much more confident in expressing myself and my passion for social justice," said Kulkarni. Kulkarni also believes that going to Corvallis High School helped strengthen his confidence. "Going to CHS and being surrounded by amazing teachers, staff, and students really helped me feel better about myself," said Kulkarni.
Kulkarni's dream for Only Being You is that it keeps expanding and helps others become better allies. "I really hope that I can do bigger things with Only Being You and help more people speak out when I'm in college," Kulkarni said.