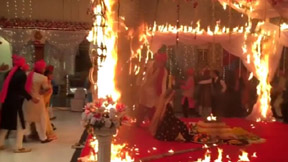 MUMBAI: Actor Kushal Tandon has saved his co-star Jennifer Winget as fire broke out on the sets of their TV serial, "Beyhadh".
The 31-year-old actor posted a video on Instagram, which shows him rescuing the actress while they were shooting a wedding sequence in the show during which the fire got out of control.
"It's actually so cliche…… you save a girl from fire …. have always watched and imagined as a scene ….. but it actually happened ….. the way I ran both the times … m laughing watching this while I'm on my way back home… but was terrified that time," Kushal wrote alongside the clip.
He added that it was an oversight on the part of the action director of the show.
"Don't know what all was going (on) in my mind …. sad that what was the action director's safety … not a single action director guy came to rescue that girl (Jennifer)…..
Thankyou God for giving me strength and the ability to think at that time to run and get her first because she just froze … and the day ends … much love to all," Kushal continued.
The actor confirmed on social media that he had suffered some burns on his neck and legs and hopes to get well soon.
Jennifer thanked Kushal for saving her life on Twitter, "@KushalT2803 I owe you biiiig time… you saved my life."
The actress also tweeted, "Last evening on #beyhadh was completely unforeseen; just a minor back burn, healing soon.
Thank you for your best wishes." –PTI