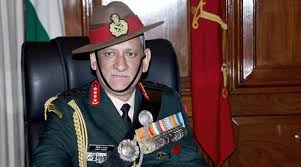 NEW DELHI: Plans are on the anvil to bring in a shift in the counter-insurgency strategy in Kashmir in which "false" propaganda inspiring youth to take up arms will be targeted rather than individuals alone, says new Army chief Gen Bipin Rawat.
He is also concerned at the rising number of Kashmiri youth joining militancy.
Gen Rawat, who has experience in handling the Kashmir militancy, said that unlike Naxalism in which locals are joining due to feeling of deprivation, it is not the case in Kashmir which has been under the siege from Pakistan-backed insurgency since late 1980s.
In an interview to PTI, he emphasized that the "false propaganda" and developments in the Middle East have affected some of the local youth and that is why one finds "more and more educated youth" getting driven towards militancy.
"When the local youth join insurgency and pick up gun it is a matter of concern because our own countrymen getting involved in insurgency is not a happy situation," Gen Rawat said.
Since the killing of Hizb-ul Mujahideen commander Burhan Wani on July 8 last year, 59 local youth have joined militant groups as per official figures though security experts say the figure is much higher.
Gen Rawat questioned if the local youth in Kashmir are getting into insurgency because of feeling of deprivation, which he said was happening in other areas.
"Is it similar to what is happening with Naxalism? It is not. It has something to do with the false propaganda that is being propagated. I think we need to reach out to people.
Rather than seeing them as targets, we need to sympathies with them and undo the kind of false propaganda that is being spread among the youth," he said.
The army chief said in insurgency it is always said that people are the centre of gravity but he would like to change that.
"I would like to bring out a shift in the centre of gravity by saying it is the propaganda, which is fuelling the insurgency that needs to be the centre of gravity. Target the propaganda that is leading to the fuelling of the insurgency".
He said it is important to understand as to why local militancy is gaining ground as Kashmir has seen the time when they had terrorists coming in from Pakistan-Occupied Kashmir and besides from other countries.
"Now we find that some local youth have also started picking up the gun. This has got to do more with the social media and what has been happening in Middle East. A lot of propaganda has been generated by some of the unwarranted Islamic organizations who are trying to interpret Islam in a very incorrect manner with inaccuracies," he said.
Gen Rawat said this is leading to fervor among some of the youth who are getting carried away by the messages that are coming through the social media, internet and other means that are available.
He said some of the local youth have got drawn into this and the "adversary" is cashing in.
"This unwarranted Islamic propaganda that is going on is what has been cashed on and further spread by our adversaries across," he said.–PTI