CHICAGO: A Global publishing house, Maneesh Media, has recently launched its latest compilation, 50-Under-50: Young and Aspiring Indo-Canadians in Toronto amid great fanfare.
This book was presented to Canadian Prime Minister Justin Trudeau at his visit earlier this week to BAPS temple in Toronto, followed by a gala event held in the honor of all remarkable achievements of dynamic young Indo-Canadians featured in the book.
The grand event, on 30 June 2023 at the Courtyard by Marriott in Brampton, was held under the auspices of chief guest H.E. Sanjay Kumar Verma, the High Commissioner of India to Canada; guest of honor Apoorva Srivastava, the Consulate General of India; and distinguished guests, the Dr.Vaikuntam Iyer Lakshmanan, recently bestowed with Order of Canada; Dr. Sankar DasGupta, the Co-Founder & CEO of Electrovaya and Adjunct Professor at the University of Toronto.
Dr. Lalita Malhotra, an eminent obstetrician from Prince Albert; Chandra Arya, Member of Parliament – Nepean; and Colin Carrie, Member of Parliament – Oshawa also graced the occasion with their presence along with other dignitaries MP Arya quoted, "As a growing community in Canada, with over two-million strong Indians, I believe we play an integral role in shaping the present and future of this county. With the global technology-based economy, you young achievers are positive role models for your peers and for generations to come."
Apoorva Srivastava, said that it was a privilege to be present on such a momentous occasion and added, "Today, we celebrate these 50 young individuals who have made India and Canada proud. But let us also acknowledge their families as their support has been instrumental in their success. The featured individuals in this book will continue to inspire the younger generation and make a lasting impact."
Sanjay Kumar Verma echoed Srivastava's sentiments. "It's not just your individual journey that is being acknowledged but that of your entire family. Many of you have pursued professional excellence without seeking recognition, making both the Indo-Canadian community and both countries proud."
Other dignitaries that spoke at the gala evening included Dr Vaikuntam Iyer Lakshmanan and Dr. Lalita Malhotra. Dr Lakshmanan paid a glowing tribute to the 50 individuals who he said had accomplished much more at 50 that he had in his 83 years. Dr. Malhotra highlighted the importance of healthcare and education in India and Canada and lauded the technological advancements in both nations in this regard.
The 50 visionaries, featured in 50-Under-50: Young and Aspiring Indo-Canadians, are true inspirations and icons, who are redefining success and making significant contributions to Canada's growth and its multicultural fabric.
Maneesh Media's Chairman Chandmal Kumawat said, "We at Maneesh Media understand the profound impact of inspiration and motivation on the lives of individuals. With a firm belief in uplifting our nation and its people, especially the young generation, Maneesh Media aims to inspire through the extraordinary success stories of those, who have triumphed over immense challenges."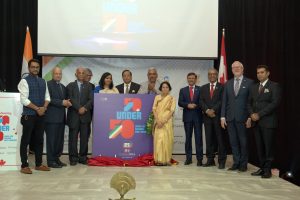 Founded in 1999 in Jaipur, India, Maneesh Media has expanded its operations to Canada and the US. As a distinguished book publishing house, it specializes in capturing the intricacies of the Indian diaspora, weaving inspiring narratives that Connect Beyond Boundaries. Maneesh Media's vision is rooted in fostering heart-to-heart communication and bridging gaps, enabling a global bond. With a global presence and esteemed reputation, it is recognized for its exclusive publications and has had the privilege of collaborating with illustrious figures who have added to glory, including accomplished industrialists, influential politicians and distinguished leaders.
Suresh Bodiwala