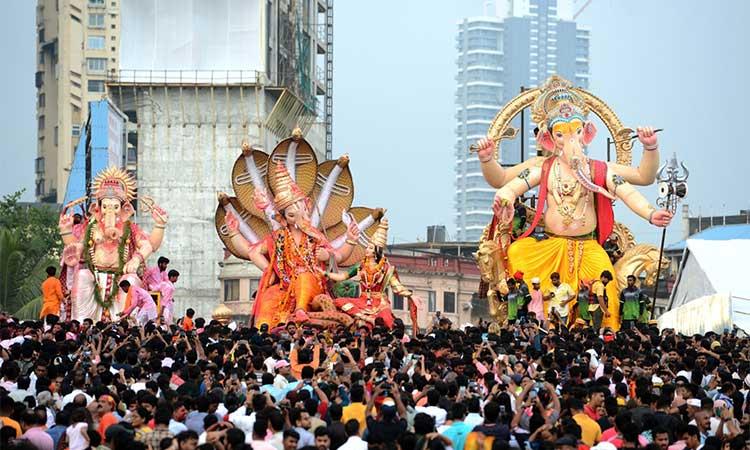 MUMBAI: Millions of people poured onto the streets and waterfronts in Mumbai and rest of Maharashtra to bid farewell to their favorite elephant-headed Lord Ganesha on Anant Chaturdashi – the 10th final day of the Ganeshotsav festival – on Friday, officials said. Chants of "Ganpati Bappa Morya, Pudhchya Varshi Lavkar Ya" rent the skies with the occasional thunderstorms of showers, clouds of red 'gulal', showers of multi-hued flowers, beating of dhol-tasha (drums-cymbals), dancing, singing of bhajans praising Lord Ganesha and tight security all over.
An estimated 400,000 gigantic, large, medium and small idols of Lord Ganesh of varying shapes and themes were taken out across the state in processions from public marquees, homes of VIPs or commoners, for immersions in the Arabian Sea, beaches, creeks, rivers, streams, lakes, ponds, wells or specially created environment-friendly artificial immersion sites.
Among these were the biggest – 38-feet tall – Mumbaicha Raja, the much-revered Lalbaugcha Raja, Chintamani and Tejukaya which were taken out in ceremonial processions to various beaches for the final farewell. Lakhs of people trooped out onto the streets to view the state's biggest spectacle in its full glory after two years of the coronavirus pandemic restrictions.
The biggest crowds were seen at Girgaum Chowpatty, Dadar, Mahim, Juhu, Versova, Madh and Gorai beaches dotting the west-coast of the city, though this year immersions were banned in the Sanjay Gandhi National Park. This evening, the BMC's Disaster Cell informed that over 8,000 gigantic, big, medium and small idols were immersed at various locations in the city without any untoward incidents.
Massive turnouts were seen in Palghar, Thane, Pune, Nagpur, Kolhapur, Satara, Sangli, Raigad, Ratnagiri, Sindhudurg and other districts for the immersion ceremonies, which will continue till early Saturday.
Pune, the second biggest centre of celebrations after Mumbai saw long processions for the immersion of its popular idols like Dagdusheth Halwai Ganpati, Kasbapeth, Kesari Wada, Shrimant Bhausaheb Rangari and others taken out in the morning.
The state Department of Tourism (DoT) and Maharashtra Tourism Development of Corporation (MTDC) made special arrangements for foreign tourists to witness the festivities in Mumbai and Pune. Earlier this week, the DoT hosted several dozens of international envoys posted in Mumbai at various Ganeshotsav mandal marquees leaving them highly impressed by the pomp and glory of the festival.
In Mumbai, at various immersions points, the police had deployed stringent security measures with CCTVs en route of various processions, aerial surveillance by Indian Coast Guard choppers, police drones, expert life-guards and divers, medical teams and ambulances, personnel in uniform or mufti on shore and in boats offshore, to tackle any eventuality.