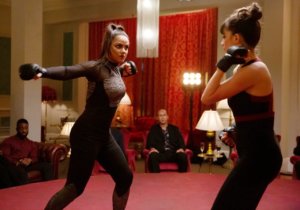 India Post News Service
On November 16, NEVER BACK DOWN: REVOLT, a Sony pictures franchise and the 4th part of the series releases all over the world. This has Nitu Chandra Srivastava is in the lead role in the movie. This unknown journey of Nitu is the rise of the underdog story and need to be told to the world.
Nitu Chandra Srivastava doesn't have a film background or anyone who supported her to stand in the film industry. We all know how nepotism and male dominance works in this industry, but despite all odds working against her Nitu made it big in Hollywood with Sony motion pictures franchise. She proved that with your dedication, hard work and perseverance you can achieve the impossible.
She shot the film in 1 degree temperature in London in Dec 2020, bare feet and at times got hurt badly but that didn't stop her at all. She also did her own action which is rare amongst actors. I hope you all know that she is a Black-belt 4th dan in Taekwondo and represented India at international levels.
Her story and journey from Bollywood to Hollywood is equally interesting. She was rejected and thrown out of 7 big Bollywood films and when asked, she laughed and said… "Thank God, it was which brought such big opportunities to me in Hollywood…"
Watch her movie for your own opinion on Digital platforms like iTunes and on discs like Blu-ray/DVDs… NEVER BACK DOWN: REVOLT