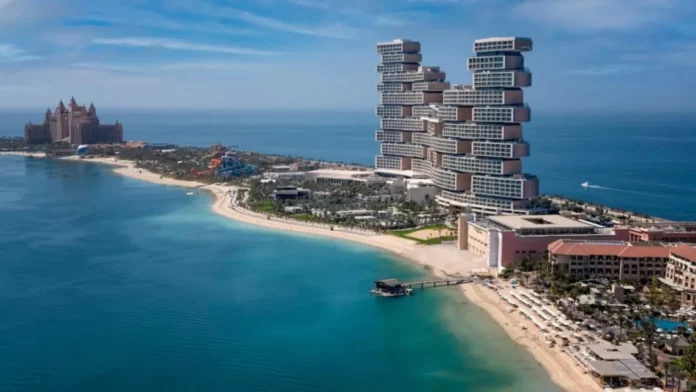 NEW DELHI: Dubai, a glittering gem in the heart of the United Arab Emirates, is a city that never fails to amaze. With its stunning architecture, luxury shopping, world-class dining, and much more to experience, it's no wonder that Dubai has become one of the top travel destinations in the world.
In this article, we will explore some new experiences in Dubai while focusing on how to get a Dubai visa online and crack the best deals on cheap flights to Dubai for a seamless and affordable journey. Below are some new experiences you cannot miss in this vibrant city:
1. Dubai Crocodile Park
Explore the Dubai Crocodile Park, sprawled over a 20,000-square-meter area. Here, you'll gain unique insights into the lives of semi-aquatic reptiles. The park is home to over 250 Nile crocodiles, comfortably residing in three temperature-controlled basins, making it an ideal destination for an enjoyable and educational family outing.
Within the park, you'll also find a Natural History Museum, an African lake-themed aquarium, a beautifully landscaped Savanna-inspired area, a charming curio shop, tranquil waterfalls, inviting sandbanks, and a variety of dining options. As an added thrill, visitors on Thursdays through Sundays can witness captivating live feeding sessions.
2. Ain Dubai
Ain Dubai, the Dubai Ferris Wheel, stands as a monumental achievement in engineering and design. As the world's tallest observation wheel, it pierces the skyline at over 800 feet, offering an extraordinary vantage point to behold Dubai's splendor and the sparkling coastline, stretching out to the endless azure sea.
A 40-minute journey within the air-conditioned cabins promises an indelible experience, making it an unforgettable adventure to share with your cherished companions.
3. Sky Views Dubai
Elevating you to more than 600 feet above ground level, this experience offers a literal bird's-eye perspective of Dubai's breathtaking landscape, extending into the vast desert beyond. Situated atop the Address Sky View Hotel, this exhilarating adventure package presents three heart-pounding options: the Glass Slide, Edge Walk, and the Observatory. For the daring souls, the Edge Walk beckons as you traverse along the building's edge, securely harnessed, of course. Revel in the panoramic vistas unfolding far below, while your sense of thrill soars to new heights!
4. Mushrif Park Biking and Hiking Trails
Explore Dubai's newest cycling attraction in Mushrif National Park, featuring 20 kilometers of mountain biking trails, with an additional 30 kilometers coming soon. These trails cater to all skill levels, accommodating up to 3,000 cyclists daily. If you prefer walking, there's a 10-kilometer path with options for easy strolls or challenging hikes, complete with scenic viewpoints and amenities.
5. Neon Galaxy
Dubai Parks and Resorts has injected new life into the picturesque outdoor setting of Riverland Dubai with the introduction of Neon Galaxy, a multi-level indoor adventure playworld. Encompassing a generous 860 square meters, this vibrant space is meticulously crafted for the enjoyment of children and young teens.
Neon Galaxy offers a thrilling array of activities, including ninja courses, exhilarating slides, a rope-climbing zone, and engaging ball pits. Adventure seekers can also take on the wipe-out challenge, while space-themed educational activities add an enriching dimension to the experience. For the littlest ones, there's a dedicated toddler area for hours of fun.
6. AYA
While it's a haven for Instagram enthusiasts seeking to elevate their social media game, AYA, located within the atrium of WAFI City Mall, delivers far beyond just a picturesque backdrop. As you enter this expansive 40,000 square foot area, you'll find yourself immersed in a world of cutting-edge sound, lighting, and graphics. AYA boasts 12 distinct zones, each weaving a unique narrative within this family-friendly destination.
Obtaining a Dubai visa online and booking cheap flights to Dubai
* Dubai Visa Online
Before you embark on your Dubai adventure, secure your Dubai visa online. It is the first step to ensuring a smooth and hassle-free journey to this spectacular city. Akbartravels.com offers a convenient platform for obtaining your Dubai visa. The process is quick, easy and 100% online. You can also secure the Dubai visa for Indians in 24 to 48 hours with the express visa service. With your visa in hand, you're ready to dive into the plethora of experiences Dubai has to offer.
* Cheap Flights to Dubai
While experiencing all these wonders of Dubai is undoubtedly enticing, it's also essential to keep an eye on your budget. Akbar Travels offers cheap flights to Dubai from India, making it possible for travelers to experience the magic of Dubai without breaking the bank.
Conclusion
With the convenience of obtaining a Dubai visa online and the availability of cheap flights to Dubai, exploring these new attractions and experiences in the city has never been more accessible. Dubai's commitment to innovation and excellence continues to make it a top destination for travelers seeking unique and unforgettable experiences. Make sure to add these new gems to your Dubai tour package to create memories that will last a lifetime.
(ADVERTORIAL DISCLAIMER: The above press release has been provided by India PR Distribution. ANI will not be responsible in any way for the content of the same)