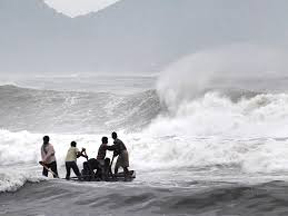 VISAKHAPATNAM/BHUBANESHWAR: Andhra Pradesh and Odisha were today grappling with the aftermath of cyclone Hudhud which has left tens of thousands homeless and badly battered infrastructure in nearly a dozen districts, including port city Visakhapatnam which resembled a war zone.
The cyclone, which has claimed eight lives and forced over seven lakh people to take shelter in camps, had moved from coastal Andhra Pradesh to Odisha, where it damaged about 50,000 thatched houses, power network and roads, before heading to Chhattisgarh and weakening into a "deep depression".
Besides Visakhapatnam, the other north coastal Andhra districts of Srikakulam, Vizianagaram and East Godavari have suffered widespread damage. Odisha's Gajapati, Koraput, Malkangiri and Rayagada were the worst affected out of the eight districts hit by the cyclone.
The Centre is keeping a close watch on the situation with Prime Minister Narendra Modi announcing that he will visit Visakhapatnam tomorrow while Home Minister Rajnath Singh today spoke to Chief Ministers of Bihar, Jharkhand, West Bengal, Uttar Pradesh, Madhya Pradesh and Chhattisgarh, which are likely to be lashed by heavy rains in the wake of the cyclone.
An alert for heavy to very heavy rainfall has also been sounded in the four north coastal districts Andhra districts and in several parts of Odisha.
Gusty winds and heavy rains have ravaged the picturesque port city of Visakhapatnam, where the cyclone made landfall yesterday, with uprooted trees, knocked down cell towers, transformers, hoardings and telephone poles blocking roads.
The Visakhapatnam airport also bore the brunt of the cyclone fury with the roof over a portion being blown away due to the gales.
Communication systems and electricity supply have snapped in the city since Saturday night and people at many places depended on the radio to know the cyclone updates.
People in the port city, who were confined to their homes since Saturday night, ventured out today after rains stopped.
"There is no power, no water or food. We are not getting petrol. We cannot move on the roads. It is difficult to survive a single day here," said a resident.
Most of the petrol pumps were closed due to the damage caused by the cyclone and those which had opened today, saw people queuing up in large numbers. Residents complained that vegetables and other food items were in short supply and their prices have shot up.
Authorities have begun efforts to remove the debris and to restore normalcy in Visakhapatnam.
Andra Pradesh Chief Minister N Chandrababu Naidu, who has decided to camp in Visakhapatnam to oversee the relief operations, said in Rajahmundry that the government's priority is to restore access to affected villages, establish communication networks and take care of those provided shelter.
Naidu undertook an aerial survey of the affected areas today. . As many as five lakh people are being provided shelter in relief camps, Parakala Prabhakar, Advisor (Communications) to the AP government, told reporters in Hyderabad.
The state government has appointed five teams of senior IAS officials to supervise the relief operations and to restore communication and other systems.
Odisha Chief Minister Naveen Patnaik said a total of 2,33,271 people were evacuated to safe places and are now housed in 2,029 shelter homes.
The state has also sent 30 teams of fire service personnel to Andhra Pradesh with machinery to clear roads and for tree cutting, an official said.
"There has been extensive damage to houses and electrical infrastructure due to the cyclone which passed the state late last night," Patnaik told reporters in Bhubaneshwar after taking stock of the situation.
Restoration work is being done on a "war footing", Patnaik said adding 90 per cent of the work would be completed by this evening.
"The affected people may leave for their homes once the intensity of the cyclone decreases considerably though mild rain may occur at some places," special relief commissioner (SRC) P K Mohapatra said.
According to disaster management departments, five persons, including a one-year-old baby, were killed in different rain-related incidents in Andhra Pradesh while three died in Odisha.
As per preliminary reports from Odisha, 25,000 kutchha houses were damaged in Koraput district, 15,000 houses in Gajapati, 7,000 in Rayagada and 1,000 houses in Malkagiri, the SRC said, adding information from other districts were awaited.
Ruling out the possibility of flood, the SRC said though the water level has risen in Bansadhara, Rusikulya and Nagabali rivers there is no flood situation.–PTI